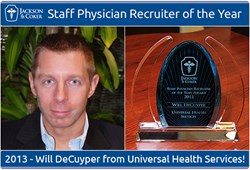 We applaud Will and this year's nominees and look forward to serving them in their physician recruitment efforts. -- Sandra Garrett, President, Jackson & Coker
Atlanta, GA (PRWEB) November 13, 2013
As a result of his success, responsiveness and reputation among physicians and executives, Universal Health Services' Will DeCuyper was named the 2013 Staff Physician Recruiter of the Year by national staffing firm Jackson & Coker.
Based in Atlanta, DeCuyper specializes in permanent placement and locums assignments. He brings 12 years of recruiting, management, sales and consulting experience to his role. One of the many who nominated DeCuyper wrote, "Will's dedication to his clients & company is evident in every encounter."
The award was created and sponsored by Jackson & Coker to draw attention to the critical and often unsung role physician recruiting professionals play in hospitals and healthcare facilities across the U.S.
"Will and all of this year's finalists play a crucial role in our industry," said Sandra Garrett, president of Jackson & Coker. "Health systems grow and patients get needed treatments because professionals like Will who work tirelessly to connect the right physicians with the right hospitals and healthcare groups."
Nominations were made by hospital administrators and physicians through an online survey tool. DeCuyper was selected among all nominees reviewed by an independent panel of healthcare executives. Their decision was based upon the content quality of the nominations submitted, not the quantity of nominations.
Finalists for 2013 included:

Annette Clovis of Samaritan Health Services
Celeste Bryant of The Regional Medical Center
Emily Vaughn of Cookeville Regional Medical Center
Hedy Luke of MidMichigan Health
Jennifer Kwasny of Aurora Health Care
Lori Norris of Dignity Health
Rena' Bethea of Carolinas Healthcare System
Sharon McCleary of Summit Healthcare
University of Maryland Medical System, Physician Recruitment Department
As this year's winner, DeCuyper will choose from multiple reward options, all of which embody the spirit of giving back. Finalists receive gift cards and other recognition items.
"We applaud Will and this year's nominees and look forward to serving them in their physician recruitment efforts," said Garrett.
About Jackson & Coker
For over three decades, Jackson & Coker, a leading locums and permanent physician employment firm, has provided doctors for a day, a lifetime, or any of life's changes in between. The firm ensures that both patients' needs and physician career goals are met and by uniting doctors with the hospitals and medical facilities that hire them.
The physician recruitment company has earned a national reputation for placing exceptionally qualified doctors in commercial and government practice physician job opportunities. Recruiters work in two divisions: Permanent placement, which recruits doctors in over 40 medical specialties for permanent physician jobs, and locum tenens, a staffing model that recruits physicians for temporary doctor jobs. With a broad range of physician staffing experience in all specialties including Psychiatry jobs, Hospitalist jobs, Internal Medicine jobs, Surgery jobs, Family Practice jobs, Anesthesia jobs and Radiology jobs, Jackson & Coker specializes in jobs for physicians at any stage of their professional career.