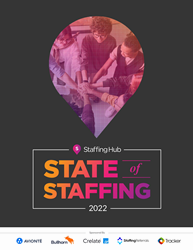 DENVER (PRWEB) May 13, 2022
Almost 8 in 10 (78.6%) staffing industry professionals expect their firms to grow by double digits this year, according to Staffing Hub's just-released 2022 State of Staffing Benchmarking Report. That's the highest rate since the State of Staffing debuted in 2016. To facilitate this growth, agencies are embracing the digital transformation.
For this year's report, Staffing Hub surveyed staffing professionals and also members of the workforce to understand the current state of the industry and how the most successful staffing firms are connecting with candidates.
Here are some key findings from the report:

Almost half (46%) of workforce respondents plan to look for a new job in 2022. The most common motivation is higher pay (49%).
Nearly 60% of staffing industry professionals believe technology provides a competitive advantage for their business.
Fast-growth agencies are 109% more likely to use a chatbot, 88% more likely to use automated referral management (ARM), and 54% more likely to use a mobile app than slow-growth agencies.
Direct sourcing and referrals continue to be the most effective lead sources for finding new candidates.
Having a relationship orientation is the most important attribute of the ideal recruiter.
For more industry insights, including more on how the fastest-growing agencies operate differently from the rest, download the full 2022 State of Staffing Benchmarking report.
About Staffing Hub
Publishing the latest industry news, research, and insights, Staffing Hub is a leading source for staffing industry intelligence. It's also home to The Staffing Show podcast, the only podcast that delivers tools, tips, and tactics from the staffing and recruiting industry's top executives and thought leaders. For more information, visit https://staffinghub.com/.