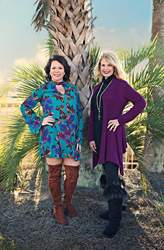 Theodore, Ala. (PRWEB) February 20, 2017
Sirius Technical Services, Inc. next month marks a dozen years in business providing temporary, long, and short term contracts, payrolling services, and permanent placement job opportunities in engineering, IT and technical related professions. These professionals support projects within various industries such as aerospace, maritime, oil and gas, specialty chemicals, automotive, and energy. The company is co-owned by Sandra F. Ritter, who serves as President and CEO, and V. Susie Jones, Chief Operating Officer.
The company is one of the leading women-owned businesses nationally and proudly promotes being certified as a woman-owned large enterprise by the National Women Business Owners Corporation (NWBOC), an independent oversight organization. Membership conveys an authenticity of its woman-owned status and helps the firm bid on many national staffing contracts.
"We've grown each year because national contracts have opened new doors for our services," says Ritter. "The strong faith of the owners has contributed to the success of Sirius, and we acknowledge professionally how blessed we are as a company. Our woman-owned status also helps secure long-term relationships with many client companies, which helps us sustain growth during the peaks and valleys in the staffing industry." Adds Jones, "Another aspect of our success involves how we relate to those we place in technical jobs. We consider our contract employees as our clients. This healthy relationship with Sirius fuels our brand and growth. Connecting emotionally is very important. Our product is 'people, ' and we handle every job candidate as an individual deserving professionalism, compassion and empathy. This facilitates loyalty, which shows in their returning to us once a temporary assignment is concluded."
While serving markets primarily in America's Gulf states, Sirius Technical Services continues to grow its presence outside the region. It currently employs over 1,000 temporary employees per year in 15 states and has 25 staff members that report to the home office in Mobile, AL. Expansion plans over the next five years include providing IT services targeted to healthcare and banking industries as well as providing 'big data' expertise to clients, the latest trend in large data center operations. It also seeks to grow its current offering in human resource expertise and co-employment management. The company is located at 6215 Rangeline Rd., Suite 102, Theodore, Ala., 36582. For more information, call 251-443-1166. The firm can also be contacted online at http://www.siriustechnical.com.
Sirius Technical Services started in 2005 in Mobile, Ala., as a technical staffing firm serving a single engineering client. Sirius' ability to find and place superior candidates for temporary and permanent employment lead to references to other firms, contributing to its growth. It currently has a strong network of both employers and available technical staff. Its niche is engineering, IT and technical staffing, and the business has thrived by focusing on that specialty.