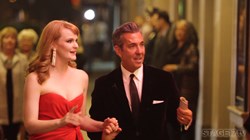 fills the gap in entertainment offerings for an audience who has a great appetite for theater and the arts
New York, NY (PRWEB) January 31, 2014
Chairman David Stoller (Executive Chairman of Reach4Entertainment) and President and Executive Producer Ondine Landa Abramson are pleased to announce the launch of STAGE17, a new digital platform that specializes in original and curated entertainment for the world's largest stage — the internet. Landa Abramson and some of her team will unveil a Beta version of the platform at SXSW, with a New York City launch planned shortly thereafter. Visitors can sign up at STAGE17.tv for a preview of the inaugural season and early access to the Beta when it is released.
STAGE17 presents a digital experience for audiences in which quality, originality, and ease of use are paramount. It is aimed at a growing community of tech-savvy individuals, with a strong interest in theater and entertainment, for whom there is currently no dedicated digital platform. As a digital playground for Broadway and theatrical artists, STAGE17 will explore the art of storytelling, both scripted and unscripted, from masters in the craft.
Original programming on STAGE17.tv will include Middle (St)age, a video blog by Marina Lippman, a 40-something, not-quite-successful actress who is heading either for mid-life success...or crisis, created by two Mamma Mia cast members Jacob Pinion and Stacia Fernandez. Bad advice can be a drag, so Fabby shares wisdom on love, life, and all things FABulous in Fabby Knows Best, her humorous and outrageously opinionated advice column. Dress Up! with George B. Style goes behind the scenes with celebrity stylist George Brescia as he prepares Broadway's finest, including Kate Baldwin and Victoria Clark, for opening nights and red carpet events. Fan Fare gives you the backstage scoop, from auditions to closing nights, as casts and creative teams from iconic Broadway shows reunite at the legendary Sardi's with Julie James, host of On Broadway from SirusXM.
STAGE17 will executive produce the second season of favorites that audiences already know and love. Wallflowers, by Kieran Turner (Jobriath A.D.), features four NYC friends who join a support group for people who cannot find dates, and in Terrible Babysitters Michael and D'Arcy (creators UCB alums Michael Kayne and D'Arcy Carden) are parents struggling to find normal childcare in a city full of oddballs, played by a slew of familiar faces such as Lauren Lapkus (Orange Is The New Black), Abbi Jacobson (Broad City), and Nicole Byer (MTV's Girl Code).
Stoller looks to STAGE17 "to fill the gap in entertainment offerings for an audience who has a great appetite for theater and the arts." Landa Abramson remarks that at STAGE17 "we are creating a platform for theater-based artists to come and play on a digital stage. I am excited to offer the kind of programming that my peers and I want to watch, and I look forward to making it available to a global audience."
Cue the curtain! STAGE17.tv
Photos available at bit.ly/Stage17Photos