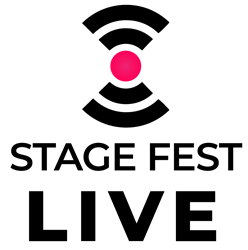 We want to support artists throughout their careers by giving them a place to perform and earn for themselves. Said Peter Lewis, CEO
NEW YORK (PRWEB) March 19, 2021
Worldcast Live today introduced their all-new entertainment platform "Stagefest Live." The website stagefest.live is officially up, offering a global audience live entertainment from comedy to music shows. Stagefest gives both performers and their fans a platform to connect and support each other. Viewers experience HD quality live streaming with access to free and paid entertainment while performers monetize their content while increasing their following. Fans can also be allowed to create accounts on Stagefest Live which allow them to follow and support their favorite artists, comment on entertainment news, and browse upcoming events.
"We want to support artists throughout their careers by giving them a place to perform and earn for themselves." Said Peter Lewis, CEO, and Co-Founder of Worldcast Live. Stagefest live is giving artists the space to create something that is theirs. The artist can create their own profile and build their fanbase by creating an artist profile on the website and decide which content they would like to share with the world. Using high-end technology and connecting it to the entertainment space has been beneficial in allowing artists to deliver high-quality content to their global viewers. With Worldcast Live's audio synchronization software performers can perform together from separate remote locations around the world in perfect sync. Performers are able to deliver the same energy and presence from live shows via Livestream.
Fan engagement is a top priority and the reason the Unimerse app was created. Fans can log into the app before, during, or after a live-streamed show and scroll through specific content created for the show they are watching while earning points that accumulate to rewards. Another dynamic feature of the Unimerse app is the ability of users to capture Augmented Reality objects via their camera phones to redeem rewards - it's as simple as panning across their surroundings with their phones to capture images that have been dropped by Stagefest. Once the user captures the Augmented Reality image, they gain points that they can use for real rewards. Fans are not only watching a dynamic Livestream show, they are also being rewarded for staying tuned.
About Stagefest Live:
A live streaming platform that allows artists to write their own narratives and monetize their content while keeping their fans engaged. Learn more about us at stagefest.live and be sure to follow us on Instagram, Facebook, and Twitter.