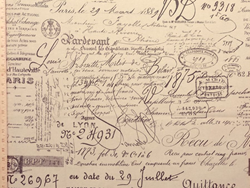 San Mateo, CA (PRWEB) March 24, 2015
Spring is here, marking the beginning of the busiest time of year for the housing market. And people looking to prepare their homes for sale by having them staged need decorative fabrics, including drapery fabrics to highlight window walls, and upholstery fabrics for decorative throw pillows in the living room, elegant duvet covers in the bedrooms, and table runners in the dining room. And without question, Norman S. Bernie Co. offers their customers the finest decorative fabric inventory in Northern California, and at discounted prices, serving the greater San Francisco Bay Area since 1957.
Anticipating the need for these fabrics, Norman S. Bernie Co. is announcing the arrival of many new patterns ideal for the home stager and the decorating-conscious home owner. Among the new arrivals are: "Tobar: Eggshell", a beautiful linen blend from P/Kaufmann; "Dalton: Charcoal" from Diversitex, also available in stock in the colors Marble and Crimson; "Wilde: Natural", a lush 100% Moygashel linen imported from Ireland, also available in stock in Oatmeal and White; "Document: Fossil", printed in French on a heavy cotton/rayon duck from Lacefield and featured by Restoration Hardware; and more.
So attention smart stagers: Whether decorating interiors and exteriors for staging or just to give environments a fresh and inviting look, Norman S. Bernie Co. offers the greatest selection of upholstery fabrics and curtain fabrics, for indoors and outdoors, at discounted prices, as well as the most courteous and expert customer service in the industry. And don't forget: Norman Bernie Co. also carries a fine selection of square, 95/5 feather/down pillow forms from 16"x16" to 27"x27", and 14"x20" rectangular forms.