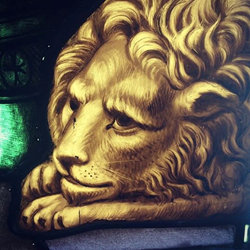 Gilbert, Arizona (PRWEB) October 15, 2014
Leading stained glass window firm Associated Crafts today announced that they are extending the restoration and repair project at St. Peter Parish in Pittsburgh, Pennsylvania, which originally began in 2013.
The restoration of stained glass windows and frames at St. Peter Parish, located in the historic North Side of Pittsburgh, is a multi-phase project. Phase 1 began in the latter part of 2013 and included the restoration of the church's great façade windows, as well as the church's windows depicting Saints Patrick and Bridget in the nave.
The project will now be extended into Phase 2, which will include the restoration and repair of four more windows. The historic windows are currently in the Associated Crafts' studio undergoing a complete re-leading by professional stained glass artisans. In addition to the re-leading, Associated Crafts has been commissioned to strip all paint from the interior stone of the four windows, remove the environmental dirt and soot that has built up on the exterior window frames, and install new window coverings. Phase 2 is expected to be complete in November 2014.
The Associated Crafts stained glass restoration work is being completed in conjunction with a series of additional conservation repairs the church is undergoing, including masonry cleaning and restoration work on the church and rectory. As part of the restoration efforts, the historic church is focused on repointing as necessary, removing existing paint on the exterior window sills, repairing and replacing structurally damaged stone and stone finials, replacing broken and deteriorating stone crosses, and restoring the existing deteriorating statue of Saint Peter.
To learn more about Associated Crafts' projects and services, please visit http://www.associatedcrafts.com.
About Associated Crafts
Founded in 1997 by John and Mary Phillips, Associated Crafts is a family-owned and operated Stained Glass studio specializing in the restoration, installation, design and preservation of church stained glass windows. The company's expertise culls from John Phillips' more than 30 years in every aspect of the stained glass business, following his father's footsteps in the industry. For more information, visit http://www.associatedcrafts.com.