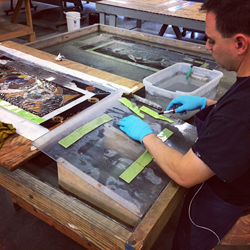 Gilbert, Arizona (PRWEB) October 21, 2014
Famed stained glass firm Associated Crafts of Gilbert, Arizona, announced today that they are currently in the process of bringing the treasured windows of Sacred Heart Church in Coshocton, Ohio, back to their original beauty, preserving them for years to come.
According to the church, the windows were installed over 100 years ago and are some of the oldest pictorial stained glass windows in Coshocton County, Ohio. Aesthetically, the windows feature artistic techniques that were considered experimental for the time and are rarely done today. Even the glass is rare—some of the types and styles of glass used were last manufactured nearly a century ago and are unavailable on the market today.
When the parish celebrated Sacred Heart Church's 115 years of continuous usage, they directed their focus on restoring their beloved windows for the current congregation and the generations to come to enjoy.
Since the initial window survey and inspection in 2010, Associated Crafts has been in touch with the church as they prepared for the necessary work. Four years later, the studio's artisans are devoting their skills to this unique and historic collection of windows. The preservation project, necessary to save the windows, includes replacing the deteriorating lead that holds each individual piece of glass in its intended place. In the instance of these windows, replacing the lead will allow the severely bowing windows to be fitted safely back into a lead matrix.
In addition to re-leading, details that have gotten lost over the years – particularly in some of the faces in the pictorial windows – will be carefully restored by Associated Crafts artisans.
Like all of their projects, the preservation work on the windows at Sacred Heart Church is being documented on the company's Facebook page.
To learn more about Associated Crafts' projects and services, please visit http://www.associatedcrafts.com.
About Associated Crafts
Founded in 1997 by John and Mary Phillips, Associated Crafts is a family-owned and operated Stained Glass studio specializing in the restoration, installation, design and preservation of church stained glass windows. The company's expertise culls from John Phillips' more than 30 years in every aspect of the stained glass business, following his father's footsteps in the industry. For more information, visit http://www.associatedcrafts.com.