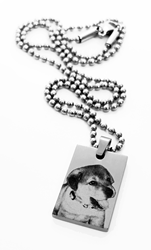 Stainless steel is a perfect metal that engraves beautifully making it a wonderful present. For the recipient, this is a keepsake of their loved one that they can carry every day."
New York, NY (PRWEB) November 14, 2016
Nothing is more valuable than memories shared over time, and during the holidays, friends, family and loved ones come together to celebrate what they cherish most. PhotoScribe has launched a brand new stainless steel photo jewelry collection, offering affordable styles for men and women to wear day-to-day, while treasuring those that mean the most to them.
Celebrating memories and making them timeless, PhotoScribe's stainless steel photo accessories are the perfect gift for someone looking for meaning and memories behind their present of choice. The customizable jewelry is laser engraved in black and white, and comes with a gift box and coordinated gift bag, chains are included with each dog tag pendant purchased. There are three pendant styles, a keychain and a money clip available for personalization. Easy to create, images can be uploaded directly to the PhotoScribe site, and are shipped within 5 business day via complimentary 2-day Fed-Ex making it ideal for fast and easy holiday buying. Prices range from $80-$99, including the high-resolution laser engraved image, with a custom personalized message on the back of each item if you would like. A short message or a date can be added, or the reverse can include one's own handwriting. The possibilities are endless. Show love by wearing the memories, and gifting them this holiday.
Carol Dounn, Vice President of PhotoScribe, says of the collection, "The stainless steel collection as a gift to a loved one is rewarding for both the giver and the recipient. A gift like this shows thoughtfulness and planning. Stainless steel is a perfect metal that engraves beautifully, making it a wonderful present. For the recipient, this is a keepsake of their loved one that they can carry every day."
We come together during the holiday season to celebrate memories, and also to create new ones. With the holidays right around the corner, what better way to celebrate than to embrace your loved ones with special memories from a shared past? Customizable jewelry is a timeless gift, and for all of the right reasons. Say what you want to say with love, and with visuals. A picture is worth a thousand words, and PhotoScribe has developed a flawless way to engrave lasting photos.
For more information regarding PhotoScribe's stainless steel accessories, visit https://www.photoscribe.com/stainless-steel.html online or email the company through their contact page. All jewelry is made and shipped from New Jersey.
About PhotoScribe:
The world's leading innovator in photo jewelry technology and development, PhotoScribe has several patents relating to their permanent image process. Preserving memories for a lifetime, the company creates enduring images made to last for generations. PhotoScribe, where modern time capsule photo jewelry meets style.