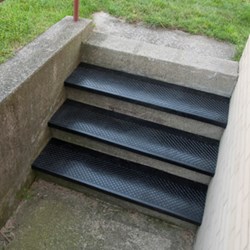 These recycled rubber stair treads are a durable and economical way of adding slip-resistance to outdoor stairways.
Cleveland, OH (PRWEB) December 19, 2013
Discount FloorMat Store's new Outdoor Recycled Rubber Stair Treads #633 are a durable and environmentally friendly option for covering exterior stairways more economically than using aluminum stair treads, as well as being more durable than vinyl or standard rubber stair nosings. These new rubber stair treads are made entirely from 100% recycled tires. They are manufactured in the same diamond pattern mold as our indoor stair tread and landing tile line, allowing one to match the design aesthetics of their outdoor steps to those indoors.
These new recycled rubber treads come in black only, and in six widths ranging from 36 to 72 inches. They may be cut with a sharp blade and metal straightedge to custom fit any stairway on the job site. According to company manager Jared Fowler, "These recycled rubber stair treads are a durable and economical way of adding slip-resistance to outdoor stairways."
The Outdoor Recycled Rubber Stair Treads are extremely durable, and when installed properly, can withstand even severe outdoor weather conditions. They improve the safety of outdoor stairs by providing an attractive, slip-resistant surface, as well as improving the appearance of worn staircases. The durability of these new Recycled Rubber Stair Treads makes them ideal for heavy foot traffic in applications including sporting stadiums, schools, malls, airports, and commercial or industrial structures.
They can be safely installed with screws, an approach normally reserved for metal or wood stair treads, although installation using adhesive is normally recommended for maximum lifespan. If glue installation is used, Discount FloorMat Store can provide appropriate adhesives for a variety of installation requirements.
About Discount FloorMat Store
Discount FloorMat Store was founded in 2004, and offers a wide variety of stair treads, wall guards, corner guards, handrails, and industrial floor matting, including grease-resistant kitchen floor mats, commercial carpet mats for entrances, anti-fatigue and anti-slip mats, exercise mats, and specialty floor matting. It sells exclusively online to keep operating costs low, with most items shipped factory direct, many from stock.
For further information, please visit http://www.floormat-store.com or call 888-432-2657.