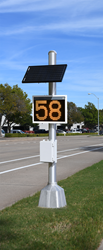 The PMG is easily configured using a dedicated PC application that is also available as an iOS or Android app.
RICHARDSON, Texas (PRWEB) February 11, 2019
Customized text and animated graphics, as well as other powerful options, transform Stalker's Pole Mounted Graphic speed sign into a full-function, dynamic message center.
In its standard configuration, the PMG is a radar-enabled, versatile speed sign, available in 12", 15", and 18" digit-height models. It also collects and stores downloadable traffic data for analysis with Stalker's revolutionary EasyAnalyst application, included free with every order.
EasyAnalyst is a new way of compiling comprehensive traffic data reports using an intuitive point-and-click interface. EasyAnalyst is designed for the non-technical user who needs to prepare traffic data presentations with standard report formatting for road-use reports, grant applications, and other traffic-oriented documents.
Individual reports can be compiled into custom documents that the user can save, edit, and print on any office printer.
In addition to its core functions, the PMG can be configured with optional features to match its working environment, including:

Dynamic text and animated graphics
Solar power with battery storage
Simulated camera flash
Traffic alert strobes
Wireless communication
Ethernet network connectivity
The PMG is easily configured using a dedicated PC application that is also available as an iOS or Android app. The PMG Configuration Application is a comprehensive program that offers the user two layers of control: a Quick Setup / Configuration level for general settings and an Expert level for detailed, function-specific configuration.
The PMG Configuration Application allows the user to create and manage custom messages and animations, set and run schedules, oversee solar/battery status, and configure radar options and traffic data collection parameters. The PMG can be powered by AC, DC, solar, or vehicle (12V) power.
Stalker introduced its first radar in 1989. The Pole Mounted Graphics Display is designed and manufactured exclusively by Stalker Radar, the world leader in speed measurement. Law enforcement organizations, traffic engineers, professional sports teams, and manufacturers around the globe requiring state-of-the-art speed measurement applications look to Stalker Radar products for the utmost in quality and value. These devices are manufactured in the United States at Stalker's Texas facility and meet the Buy America Act allowing federal grant money to be used to purchase these products.