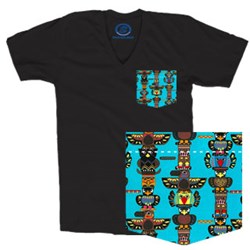 Miami, Florida (PRWEB) January 21, 2014
StampLabel, the clothing brand that gives 10 percent of the profits of each purchase to charity, has added new fabric options to its pocket tee product line. These new fabrics represent four different world cultures. All pocket fabrics are available on men's and women's crewnecks or V-necks. The crewnecks and V-necks are available in white and black. StampLabel also has one unisex crewneck available in a unique color. The names of the four new fabrics are Great Gatsby, Picasso, Air Force Stars, and Totem Poles.
"We are very excited to add these new fabrics to our website," stated Joshua Mathis, StampLabel's Co-Founder and Co-Chief Difference Maker. "These additions give our customers more options to choose from. Furthermore, the new fabrics can help us increase our monthly giving to the different charities we work with."
StampLabel has received positive feedback regarding the new fabrics. They encourage customers not to wait to purchase because most fabrics will be available for only a limited time. All four of the new fabrics are made of 100% cotton, and are cut, stitched, and sewn at StampLabel's facility in Miami, Florida.
About StampLabel
StampLabel is a clothing brand that gives. Every month, they release new apparel that aligns with their mission of inspiring positive living and incorporating giving into daily life. They sell Pocket Tees that are exclusive with fabrics that represent the world and its different cultures, and Graphic Tees with designs that represent Positive Chaos™. Positive Chaos is the fact that there is always positive in this chaotic world. Their mission is to make a difference in all communities, enrich the life of every individual, and through their efforts inspire others to be positive and incorporate giving into their everyday lives. StampLabel is Fashion with a Purpose because each month, they work with a different charity and donate 10% of every purchase. To learn more about StampLabel, visit the website at StampLabel.com.