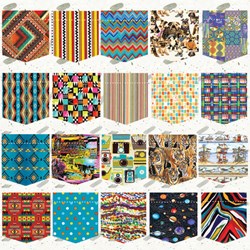 Miami, Florida (PRWEB) November 13, 2013
StampLabel, the clothing brand that donates 10 percent of each purchase to charity, has added Pocket Tees to its line of products. The company has many different fabrics that customers can select from. The fabrics that are used represent the world and its different cultures. Each month, StampLabel will add more pocket fabric options to its website. All pocket fabrics are available on men's and women's crewnecks or V-necks. The crewnecks and vnecks are available in white and black. StampLabel also has one unisex crewneck available in a unique color. Every month, the color of the unisex crewneck shirt will change. All shirts fit true to size. The men's and women's crewnecks and V-necks are made with 100% ring spun cotton. The unisex shirt is made with 65% polyester and 35% cotton.
"We are very excited about this new addition to our product line. These new Pocket Tees will not only help us grow the company, but will most importantly help us bolster our monthly giving," states Jeremy Mathis, StampLabel's Co-Chief Difference Maker.
Most of the fabric will always be limited in quantity; therefore, StampLabel encourages customers to purchase as soon as they see something they like. The fabric that is used to create the pocket is 100% cotton. All fabric pockets are cut, stitched, and sewn at StampLabel's facility in Miami, Florida. All pocket tees are made to order and shipped via the United States Postal Service (USPS) First Class Mail. Buy a Shirt. Make a Difference!
About StampLabel
StampLabel is a clothing brand that gives. Every month they release new apparel, and work with a different charity and donate 10% of every purchase. They sell Pocket Tees that are sophisticated with fabrics that represent the world and its different cultures, and Graphic Tees with designs that represent Positive Chaos™. StampLabel's mission is to make a difference in all communities, enrich the life of every individual, and through their efforts inspire others to be positive and incorporate giving into their everyday lives. To learn more about StampLabel visit our website at http://www.StampLabel.com.
Contact:
Joshua Mathis
786-277-4695
JoshuaMathis(at)StampLabel(dot)com