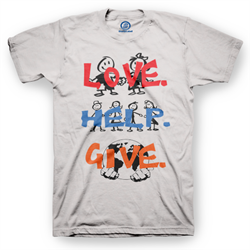 One shirt at a time, we can make a difference!
Miami, Florida (PRWEB) September 25, 2013
StampLabel, the positive clothing brand that donates 10 percent of each sale, announces they will continue to work towards their goal of $500. The company is working to raise funds for the non-profit organization, Lauren's Kids. These funds will help Lauren Kids further their mission of preventing sexual abuse through awareness and education, and help survivors heal with guidance and support.
"We are not close to our goal of $500, but we are working diligently to exceed the goal," stated Joshua Mathis, StampLabel's Co-Chief Difference Maker. "As a company, we firmly believe that we can surpass this goal. We only need to sell 250 shirts to reach our goal, which will help Lauren's Kids. This organization does so many great things and is very deserving of these and many more funds. They are not only raising awareness for sexual abuse, but they are also trying to prevent it from happening."
Lauren's Kids has gone to great lengths to not only make Florida a safer place, but the entire United States. The organization travels around the nation teaching the "Prevention Curriculum." The sexual abuse curriculum teaches elementary-age children the tools to prevent abuse and how to report it. Furthermore, Lauren's Kids helped pass Safety Zone laws. These Safety Zones prohibits convicted offenders and predators from loitering within 300 feet of a school, school bus stop, parks or similar locations.
There are many horrifying statistics on sexual abuse such as, 30% of sexual abuse is never reported, 90% of child sexual abuse victims know the perpetrator in some way, 20% of the victims of sexual abuse are under age eight, 1 in 5 boys are sexually abused before the age of 18, 1 in 3 girls are sexually abused before the age of 18, and nearly 70% of all reported sexual assaults (including assaults on adults) occur to children age 17 and under. These sexual encounters can negatively affect a child for the rest of their life. Lauren's Kids is working to combat abuse and erase these statistics. Not only do they travel the world to educate children and adults about sexual abuse topics, they also have a 24 hour Crisis Hotline to provide immediate support to anyone that needs it.
StampLabel hopes to shine a light on a subject that sometimes may not receive the attention it deserves. The company wants their supporters to not only make a purchase on their website, but also wants them to speak out on this issue. Joshua states, "We really want to help raise awareness for this cause and this great organization. By making a purchase, you are truly making a difference."
About StampLabel
StampLabel is a clothing line that sells positive apparel and inspires giving! Their apparel represents the lifestyle of the founders: loving, giving, spiritual, motivational, and fun. StampLabel is Fashion with a Purpose because each month, they work with a different charity and donate 10 percent of every purchase. They spread social awareness for different causes and positively impact lives. StampLabel's mission is to make a difference in all communities, enrich the life of every individual, and through their efforts inspire others to incorporate giving into their everyday lives. To learn more about StampLabel, visit the website at, StampLabel.com.
About Lauren's Kids
Lauren Book, founder of Lauren's Kids, was a victim of childhood sexual abuse for six years at the hands of her nanny. Armed with the knowledge that 95 percent of sexual abuse is preventable through education, Lauren has worked to turn her horrific personal experience into a vehicle to prevent childhood sexual abuse and heal survivors by starting Lauren's Kids. Lauren's Kids encourages victims to "shine a light in dark places" and "shed the shame."