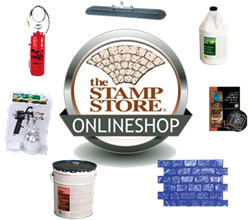 'My lifelong mission was to serve contractors and customers with high quality products, resources, and training in the decorative concrete industry." - Doug Bannister
Oklahoma City, OK (PRWEB) February 28, 2015
The Stamp Store, a concrete product manufacturing and distribution firm based out of Oklahoma City, is now home to the world's largest online store for decorative concrete products, tools, and systems. Established in 1990, The Stamp Store was the first decorative concrete store in Oklahoma, and now offers nationwide solutions to both contractors and consumers who are looking to use decorative concrete in their homes and businesses. Founded by Doug Bannister, a man who brings more than 35 years of experience in the concrete industry backed with an innovative ecommerce history.
Doug was available to give us his views on the massive growth of The Stamp Store into a large ecommerce store. He states:
'My lifelong mission was to serve contractors and customers with high quality products, resources, and training in the decorative concrete industry. Over the past few years, especially since the Internet has popularized, we have taken our solutions to the next level by offering nationwide online shopping. Now you can purchase some of our iconic decorative concrete products that helped set a benchmark for standards in the industry; from the comfort of your home."
The Stamp Store, as of today, is an online marketplace for various decorative concrete products, systems, and tools. SS Specialties is an in-house brand of the company for decorative concrete products and has been offering DIY tips, training, and resources in implementing best practices in the application, installation, and maintenance of decorative concrete products and services.
When asked about how The Stamp Store has transitioned over the years, Doug claims:
'As one of the early pioneers in online marketing, we started building a loyal customer base in Oklahoma featuring both contractors and homeowners. To be honest, we did not anticipate the turnaround and decided to offer our solutions to nearby states. Today, The Stamp Store is a national marketplace for decorative concrete and offers resources that can help contractors as well as homeowners achieve perfection in every concrete project they undertake!'
The Stamp Store is home to over 3000 products in the decorative concrete market, including color pigments, countertop supplies, hand tools, sealers, sprayers, texture mats, and complete specialty decorative concrete systems. Offering door to door delivery service with a convenient network of distribution, The Stamp Store is making headlines in the concrete industry for all the right reasons.
About The Stamp Store
The Stamp Store was established in 1990, and was the first store in Oklahoma dedicated to decorative concrete. Doug Bannister, a decorative concrete contractor with over 35 years' experience in the field realized that many of the products required for decorative work were limited or not available in Oklahoma. Doug began contacting blenders, manufacturers and suppliers throughout the United States to insure the best resources would be available when he opened The Stamp Store. He worked with a number of manufacturers to customize products in order to fill the specific needs for a contractor in the field. Utilizing the Internet, Doug was an early pioneer in web based marketing, building a loyal customer base within Oklahoma as well as outside the state's boundaries.