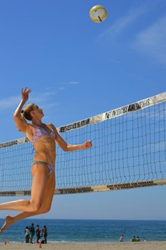 I love how I feel every time after I do the 21-Day Purification Program from Standard Process.
PALMYRA, Wis. (PRWEB) January 07, 2015
Standard Process Inc., nutritional supplement manufacturer, announces it has partnered with Kerri Walsh Jennings, three-time Olympic gold medalist and professional beach volleyball player. Walsh Jennings will work with Standard Process to encourage people to embrace one degree of change as it relates to living a healthier lifestyle. She will share her experiences with the Standard Process 21-Day Purification Program and how it's motivated her to make healthier choices through social media and other channels.
Walsh Jennings is a fan of Standard Process' nutritional supplements and has been using the products as part of her nutritional regimen for many years. She has personally experienced the benefits of cleansing her body and ridding it of naturally occurring toxins with the help of the Standard Process 21-Day Purification Program.*
"I love how I feel every time after I do the 21-Day Purification Program from Standard Process," said Walsh Jennings. "The program jump-starts my drive to keep making healthy choices because feeling fit, healthy and mindful makes all the difference."
Before partnering with Standard Process on this campaign, Walsh Jennings spoke at two of the company's past special events, including the California "Healthy Women: Mind, Body & Mood Conference," a women's health event. She was also quoted in Allure magazine's July 2012 article, "Golden Girls," on how she and her husband, Casey Jennings, do the Standard Process cleanse program once a year.
The Standard Process Purification Program is structured to combine whole food eating with supplements, nutritious supplement shakes and light exercise. Participants can enjoy a large variety of fresh vegetables and fruits for the first 10 days of the program and select proteins beginning on day 11. The goal of the program is to help participants transition to a new way of eating, under the supervised guidance of a health care professional, to feel their best based on enjoyable, healthy food.
Visit the Standard Process Purification Program page at standardprocess.com to learn more about the program.
*These statements have not been evaluated by the Food and Drug Administration. This product is not intended to diagnose, treat, cure or prevent any disease.
###
About Standard Process Inc.
For more than 85 years, Standard Process has been dedicated to the field of nutritional supplements and the whole food philosophy introduced by its founder, Dr. Royal Lee. Standard Process, headquartered in Palmyra, Wis., offers more than 300 high-quality supplements with whole food ingredients through three product lines: Standard Process and Standard Process Veterinary Formulas supplements, and MediHerb herbal supplements. The products are available only through health care professionals.
To ensure its supplements are of the utmost quality, Standard Process grows the majority of its ingredients on company-owned, organically certified farmland. The company uses exclusive manufacturing processes to retain vital nutrients within each ingredient and employs high quality control standards, including adhering to the Food and Drug Administration's good manufacturing practice requirements.
Standard Process employs more than 330 people. The company is a recipient of the Platinum Well Workplace Award from the Wellness Councils of America and has distinguished itself as a leader and innovator in workplace promotion. In 2014, Standard Process launched Cultivate by Standard Process, a business that delivers scalable wellness solutions to impact individual employees and the overall company using onsite chiropractic as a central component of the program.
Standard Process is also distinguished as an exemplary environmental citizen. The company is a Tier I participant in the Wisconsin Department of Natural Resources' Green Tier program, which recognizes companies with strong environmental compliance records. For additional information about Standard Process, visit standardprocess.com.