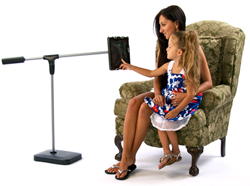 Giving people the freedom to relax and enjoy their devices hands-free is our mission," says CEO Marty Springer.
Seattle, WA (PRWEB) December 03, 2014
Stand For Stuff, the Seattle maker of floor stands for tablets and e-book readers, announced today the launch of the Universal SwingHolder. This new floor stand is designed to be compatible with tablets from almost any manufacturer. "We're proud to expand our product line to support nearly every tablet and e-reader made today. Giving people the freedom to relax and enjoy their devices hands-free is our mission," says CEO Marty Springer.
Research has shown that holding a tablet in the lap or on a table can lead to neck, shoulder and arm pain. The Universal SwingHolder supports the tablet at the ergonomically correct position, alleviating pain and allowing for extended tablet use. With the SwingHolder, customers can read, watch movies in bed, cook, and exercise—all hands-free.
Anyone who uses a tablet for long periods of time can now do so comfortably whether they are seated, standing, or lying down. The SwingHolder provides nearly infinite viewing angles and orientations. The head pivots horizontally up to 270 degrees, allowing the SwingHolder to be positioned on either the right or left side of a bed. The tablet can be switched from portrait to landscape mode by simply turning it. Orienting the tablet is as easy as moving it then letting go; it stays in position without tools or adjustments.
The SwingHolder's ability to easily and precisely position a tablet makes it especially useful for people with injuries. Pain and discomfort are minimized when the tablet can be placed exactly where it's needed. And for people with disabilities, the SwingHolder is a godsend. For many of the disabled, tablet use isn't possible due to limitations in grip, strength or motor skills. The SwingHolder holds the tablet for the disabled person, enabling hours of enjoyment.
The SwingHolder is stable enough for use in environments where there is a chance of it being bumped or knocked over. The patented counterbalance design provides unmatched stability and tip-resistance. Four grips hold the tablet securely and prevent it from accidentally falling out, yet still make it easy to insert and remove. Ratcheting arms zip into place and keep the tablet secure. The stand's adjustable head—with newly engineered corner grips—works with any tablet ranging in size from 7.5 inches to 14.5 inches diagonally.
The Universal SwingHolder holds a wide range of tablets and isn't limited to use with just the iPad as was the original SwingHolder. Compatible devices include all Kindle, Nook, Windows Surface, Samsung Galaxy, and Nexus tablets as well as all iPad versions. Avid e-book readers, children and general tablet enthusiasts will all enjoy using the Universal SwingHolder.
When not in use, the SwingHolder can be moved out of the way with a fluid motion. It stores easily, taking only 2 square feet of space. A wheel accessory—sold separately—attaches to the base and makes the SwingHolder easy to roll from room to room. To keep the tablet charged, an integrated USB cable is permanently installed inside the stand, eliminating dangling wires that are ugly and a trip hazard. Customers simply use the power adapter and cable that came with their tablet.
The Universal SwingHolder has a 100% satisfaction guarantee. It is available for purchase at http://www.StandForStuff.com, Amazon.com and Amazon.co.uk, and makes a great gift.
Stand For Stuff will be exhibiting the entire SwingHolder family of floor stands at the Consumer Electronics Show (CES) in Las Vegas from January 6-9, 2015. Please visit us at booth 6139.
CONTACT:
Saralyn Whitney
Director of Marketing
Stand for Stuff LLC
(800) 456-8629
saralyn.whitney(AT)standforstuff.com