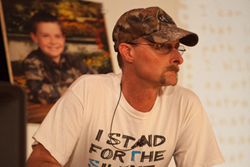 "Stand for the Silent's message is similar to our music, which is about hope and optimism. We're a band who says singling out somebody is not OK. Like Kirk says: 'Students have a chance to change the world we live in by taking a stand against bullying, and taking a stand to help others.'"
Chicago, Illinois (PRWEB) October 11, 2017
Since 2011, Kirk Smalley, of Stand for the Silent, has spoken to more than 1 million children about the dangers of bullying. A leading Chicago-based band has started a Gofundme campaign for National Bullying Prevention Month to help him reach 1 million more.
The Fold, whose power pop rock is featured in the recently released "LEGO NINJAGO Movie," hopes to raise $75,000 to bring a Stand for the Silent presentation to lower-income schools that would not otherwise be able to afford one. The campaign coincides with National Bullying Prevention Month, started in 2006 by PACER's National Bullying Prevention Center.
"We were looking to get involved with a charity that shares our ideals, and that's when we learned about SFTS," said band member George Castady. "The more we found out about Kirk and his organization, the more we wanted to help them, because bullying touches so many lives, including in our own families."
Smalley and his wife, Laura, have dedicated their lives to bullying prevention after their 11-year-old son, Ty, committed suicide after years of being bullied. Since 2011, Kirk has told his family's story in a powerful, moving presentation that has reached more than 1,300 schools. He's on the road more than 300 days a year. Schools across the country have started their own Stand for the Silent chapters after hearing Smalley speak.
Smalley's message to children is simple: "You ARE somebody." To help him along in his presentation, Kirk encourages them to make the hand sign for "I love you." Students sign a pledge that reads in part: "I pledge to lift up those victims and show them that their life matters." Smalley has received thousands of messages of support from students, including from those who said they were considering suicide before they saw Kirk speak.
Castady said the band saw something familiar in Smalley's nonprofit. "Stand for the Silent's message is similar to our music, which is about hope and optimism," Castady said. "We're a band who says singling out somebody is not OK. Like Kirk says: 'Students have a chance to change the world we live in by taking a stand against bullying, and taking a stand to help others.'"