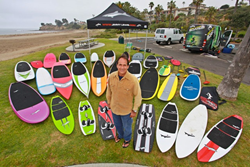 Shops want to know that the distributor and brand support them--not compete with them.
Maui, HI (PRWEB) May 08, 2014
Miami-based Fuacata Sports, LLC has been the exclusive distributor for Jimmy Lewis since 2009, wholesaling kite, paddle, and surf boards to over 100 shops around the country. Their philosophy has always been to Build the Brand and Support the Dealer. So how can they run a retail web-store that doesn't compete with their local retailers?
Ken Russell, co-owner of Fuacata Sports sums up the issue: "A high-end surfboard or SUP like Jimmy's is best sold by local shops that take the time to educate a consumer on the difference and value of good shaping and construction. So we have to take care of these shops. A brand that runs their own website selling boards against its dealers is only hurting itself in the long run. Shops want to know that the distributor and brand support them--not compete with them. We've partnered with Quivers to use their web platform and take care of local shops."
Quivers, based in Morro Bay, CA, has developed proprietary software to link customers anywhere in the country with the closest stocking dealer of a particular size, color, and model of Jimmy Lewis board. Even if that dealer is on the other side of the country, they'll be paired up quickly and the sale will be made. Customer is satisfied, local shop is taken care of, and the distributor has done its job. Although Fuacata Sports had been using a similar method of handling its online sales for SUPs four years ago. The new partnership with Quivers is a big improvement offering better margins for dealers and more flexibility through their unique software. Dealers can even be notified of available sales instantly through a phone app.
The new site design also includes a unique board dock on the home page which lets customers easily navigate to any of Jimmy's 27 shapes based on category and riding style.
Check out the new site http://www.jimmylewis.com.
Become an authorized Jimmy Lewis retailer by contacting Fuacata Sports.
Learn more about Quivers.