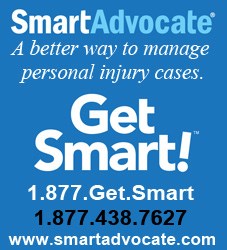 It is a program designed by attorneys, specifically for personal injury litigation practices. It met our specific needs like no other program available.
New York, NY (PRWEB) November 25, 2013
SmartAdvocate LLC announces that The Stanley Law Offices, based in Syracuse, New York, has chosen SmartAdvocate® to be its case management software system. The firm focuses on personal injury, medical malpractice, and social security disability, among other topics of litigation.
SmartAdvocate® is designed exclusively for plaintiff's personal injury law firms that need a comprehensive, cutting-edge solution to plaintiff's personal injury case management. SmartAdvocate®, which requires no desktop installation because it is a web-based system, features all the functionality necessary to meet any personal injury and mass tort law firm's every case management need. SmartAdvocate® manages, stores, tracks, and classifies information for all of a firm's cases—and any shred of this data is easily and swiftly retrievable with a keystroke.
"After a comprehensive search, our office chose SmartAdvocate® for our case management needs," said Jessica M. Rurey, a Paralegal at The Stanley Law Office. "It is a program designed by attorneys, specifically for personal injury litigation practices. It met our specific needs like no other program available. In fact, when we saw a demo of SmartAdvocate® we didn't think it was real as no other software we reviewed looked anything like it!"
SmartAdvocate® was created and designed by personal injury attorneys and staff working at a high-volume personal injury law firm, capitalizing on their extensive understanding of what personal injury law firms require from a case management system in today's ultra-competitive market.
Some law firms may be facing the pending obsolescence of case management software they have used for years; software makers may be dropping support services and offering case management software that is dated and/or unresponsive to all the needs of their clients. Some case management software hasn't changed in over 20 years.
To address this, SmartAdvocate LLC rolled out an industry-leading, limited-time offer: If your plaintiff's personal injury case management software has notified your firm that technical support is slated to be discontinued, we will perform data, template and merge code conversions at no additional cost. This makes the transition to SmartAdvocate® seamless, with no downtime and no loss of data or functioning templates. While change may be necessary, it doesn't need to be painful—at least with SmartAdvocate®.
Additional key features of SmartAdvocate® include:
•Document filing and bar-coding – enabling mail and other documents to be scanned right into their respective cases – the paperless law firm!
•Graphic Dashboards with filtering at multiple levels tracking Statutes of Limitations/Notice of Claims, case intakes, critical deadlines, case statuses, settlements and collections, compliance with law firm protocols and standards, staff performance, and much much more;
•Dashboards to manage cases – track client callbacks, manage the receipt of retainers, and ensure tasks are completed on time;
•Pre-formatted reports designed to assist in case management. You can subscribe to these reports and receive them via email on any schedule you choose or upon request or both;
•Document assembly with very easy template creation and editing;
•And much more.
In creating SmartAdvocate®, Jerrold S. Parker, the co-founder of national personal injury law firm Parker Waichman LLP, realized that available case management software systems were simply not playing an effective enough role to offset the increasing complexity of running the business and management side of a personal injury law firm in today's ultra-competitive market. So, Jerry concluded that he would have to build such a product himself. Employing the finest programmers, graphic consultants and beta testers to work alongside him, Jerry fostered the development of SmartAdvocate®—case management software for personal injury law firms by personal injury lawyers who know precisely what is wrong with generalized case management software.
SmartAdvocate® is a fully integrated case management software system designed for personal injury and mass tort litigation practices. For more information about SmartAdvocate®, or to reserve a demonstration, please visit http://www.smartadvocate.com or call 1-877-Get-Smart (1-877-438-7627) now!
Contact:
Dayhanara Baez
SmartAdvocate LLC
3301 Bonita Beach Road
Suite 101
Bonita Springs, Florida 34134
with offices in Florida and New York
1-877-Get-Smart (1-877-438-7627) sales
1-516-740-7777 technical support
info@smartadvocate.com