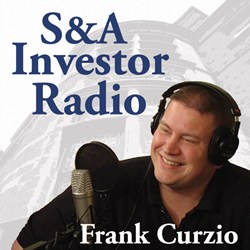 I personally loved this interview...- Frank Curzio
Baltimore, MD (PRWEB) July 18, 2013
S&A Investor Radio, an independent financial research podcast produced by Stansberry Radio, hosted nationally-recognized personal finance expert Jordan Goodman last week to discuss a plethora of personal finance strategies. Goodman gave detailed advice to listeners on how to take control of personal finance issues. "I personally loved this interview," stated Curzio. "I loved that he (Goodman) gave specific websites and information for you to go out and do your own research."
In addition to how to handle mortgage and other common debt, Goodman stated the following about student loans: "This is the next bubble… something like 17% of student loan debt is delinquent." Goodman gave three detailed ideas to reduce the financial impact of student loan debt. Listen to the entire interview here (Episode 191).
S&A Investor Radio is an independent financial research podcast hosted weekly by Frank Curzio and produced by Stansberry Radio. Host Frank Curzio is one of America's most recognized experts in the small-cap sector. He is the voice behind S&A Investor Radio, editor of S&A's Small Stock Specialist, and editor of S&A's exclusive emerging technology micro-cap advisory, Phase 1 Investor. Before joining Stansberry, Frank lived and worked in New York City writing for TheStreet.com. He is still mentioned numerous times on Jim Cramer's Mad Money, and has been a guest on Fox Business News, Stansberry Radio, and CNBC's The Kudlow Report and The Call.
Jordan E. Goodman is "America's Money Answers Man" and a nationally-recognized expert on personal finance. He is a regular guest on numerous radio and television call-in shows across the country, answering questions on personal financial topics. He appears frequently on The View, Fox News Network, Fox Business Network, CNN, CNBC, and CBS evening news.
For 18 years, Goodman was on the editorial staff of Money magazine, where he served as a Wall Street correspondent. While at Money, he reported and wrote on virtually every aspect of personal finance. In addition, Goodman served as weekly financial analyst on NBC News at Sunrise for 9 years and the daily business news commentator on Mutual Broadcasting System's America in the Morning show for 8 years.
He is the author / co-author of 13 best-selling books on personal finance, including Master Your Debt Fast Profits in Hard Times, Everyone's Money Book, Master Your Money Type, Barron's Dictionary of Finance and Investment Terms and Barron's Finance and Investment Handbook. He has written 6 special focus editions of Everyone's Money Book on College, Credit, Financial Planning, Real Estate, Retirement Planning and Stocks, Bonds and Mutual Funds.
Goodman is also a speaker and seminar leader on personal finance topics for business executives, students, associations, investment clubs, employees, and others.