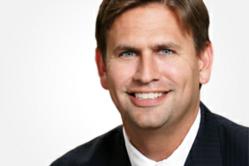 Baltimore, MD (PRWEB) July 01, 2013
"Cheap, hated and in an uptrend – that's my mantra, it's what I look for in an investment" said Sjuggerud. "If you can find all three of those at once, it's really what you want." Sjuggerud, editor of True Wealth, says stocks and real estate still fit this bill. "I think these are still hated enough and cheap enough that that's where you want to have your money."
The video was released this week in the Stansberry Media Minute. You can watch it here.
The Stansberry Media Minute is produced each day the markets are open by Stansberry & Associates Investment Research and gives a brief insight into what Stansberry's expert analysts are seeing in current investment trends and opportunities. For more information about Stansberry & Associates or to book an interview with its analysts, please contact Sara Wilson at 410-864-1784 or media(at)stansberryresearch(dot)com. Visit our website at http://www.stansberryresearch.com.
Dr. Steve Sjuggerud is the founder and editor of one of the largest financial newsletters in the world, True Wealth. Since inception in 2001, True Wealth readers have made money every year with safe, contrarian investment ideas. Steve did his Ph.D. dissertation on international currencies, he's traveled to dozens of countries looking at investment ideas, and he's run mutual funds, hedge funds, and investment research departments. Steve's investment philosophy is simple: "You buy something of extraordinary value at a time when nobody else wants it. And you sell it at a time when people are willing to pay any price to get it." It's harder than it sounds, but Steve continues to be able to do just that for his readers.
Stansberry & Associates Investment Research is an independent financial research firm, delivering unbiased investment intelligence to self-directed investors seeking an edge in a wide variety of sectors and market conditions. S&A experts produce a steady stream of timely research that covers topics such as value investing, maximizing income, energy-sector investing, resources, biotech, medical technologies, financials, technology, short-selling, macroeconomic analysis, and options trading. Stansberry's unrelenting and uncompromised insight of market trends and analysis has made it one of the most respected and sought-after research organizations in the financial sector.
Founded in 1999 and based out of Baltimore, Maryland, S&A has nearly two dozen analysts and researchers– including former hedge-fund managers and buy-side financial experts – who publish proprietary insights to more than 350,000 individual subscribers in more than 100 countries. Stansberry & Associates Investment Research has additional offices in Florida, Oregon and California.