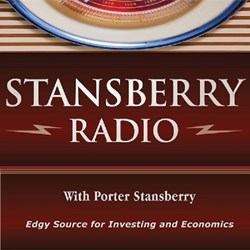 The question is- what is going to be the velocity of that increase in rates? Is it going to happen like a shock? If that's the case, then we see a major slowdown in the world economy and a major correction in stock market.
- Eric St-Cyr
Baltimore, MD (PRWEB) July 15, 2013
Stansberry Radio hosted global asset manager and regular MarketWatch contributor, Eric St-Cyr on its popular podcast Stansberry Radio with Porter Stansberry last week (Episode 81). Stansberry Radio, a provider of independent financial research, is produced and distributed weekly as a part of the Stansberry Radio Network.
Among the topics discussed in the interview, Stansberry and co-host Aaron Brabham questioned St-Cyr about his take on the U.S. dollar and St. Cyr's opinion on deflation. "We read your quarterly market report yesterday, and you're giving a 10% chance more for deflation than you are inflation. I think you have it weighted at a 30% chance versus a 20% chance. Then, you have 50% that we just kind of slog through it" said Brabham.
"We usually have inflation higher than deflation," stated St. Cyr. "He's (Federal Reserve Chairman Ben Bernanke) starting to indicate that they will gradually reduce the intervention within the market. We think that's going to push rates higher. The question is- what is going to be the velocity of that increase in rates? Is it going to happen like a shock? If that's the case, then we see a major slowdown in the world economy and a major correction in stock market… If that does happen, that's going to move us into deflation because the economy is just going to jam."
You can listen to the entire interview here (Episode 81).
The Stansberry Radio Network is becoming a required stop for financial experts, economists, politicians and the media. The show has been host to a wide variety of prominent names, including Lauren Lyster, Jeff Macke and James Altucher. Other guests have included Mike "Mish" Shedlock, MSNBC host Chris Hayes, Co-host of Ron Paul's America, Charles Goyette, publisher Steve Forbes, and renowned investors Jim Rogers and Marc Faber.
Stansberry Radio with Porter Stansberry is a top three investing podcast on iTunes, having more than 100,000 downloads and listens per month. New episodes are released every Thursday afternoon.
Stansberry Radio Network segments can be accessed at http://www.stansberryradio1.com.
Eric St-Cyr brings over two decades of management experience in global and offshore financial markets to his role as Founder and President of Clover Asset Management. He founded the firm in 2007 with the goal of offering expertise, freedom, and peace of mind to investment clients. He is also a regular contributor to MarketWatch.com. Before founding Clover Asset Management, Eric was the General Manager of Guardian Asset Management, where he led the management of ten mutual funds. Prior to this, he was Senior Vice President at CIBC/ TAL Global Asset Management, one of the largest asset management firms in Canada, with assets under management exceeding USD$60 Billion. Eric also spent a number of years leading TAL's Cayman Islands office as Managing Director, where he was responsible for the portfolio management and growth of the business.