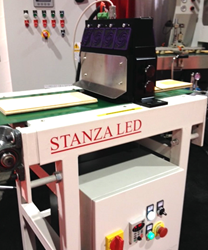 (PRWEB) August 22, 2014
Stanza Machinery debuts its LED curing unit at IWF Atlanta in booth #7449. LED (light emitting diode) utilizes the latest technology yielding higher UV power with less energy consumption while maintaining longer bulb life and cooler operating temperatures. Stanza Machinery offers an array of equipment and technical services to the wood industry. They specialize in finishing solutions for flat and linear pieces.
The International Woodworking Fair is the largest showcase of machinery, materials, supplies, and services in the Western Hemisphere for woodworking and related industries. This is the event where industry professionals from all over the globe will come to find products and solutions for furniture manufacturing, cabinetry, architectural woodworking and material processing.
About Stanza Machinery
Stanza Machinery provides industrial finishing solutions and technical services for the metal, wood, and plastics industries. We specialize in coating and finishing systems for mouldings, extrusions, tubing, flooring, and flat surfaces in metal, wood, and glass. Our extensive range of equipment includes Vacuum Coaters, Profile Sanders, UV Ovens, IR Curing, Moulding Sprayers, Roll Coaters, LED Curing, Profile Sanders and Denibbers. Our experienced team provides complete service to our customers from AutoCAD design to installation and training, backed by a parts and service department. The Stanza facility located in Charlotte, N.C. is equipped with both linear and flat line equipment for testing of your products. For more information, visit: http://www.stanzamachinery.com.
About Phoseon Technology
Phoseon Technology is the world leader in providing UV LED solutions for commercial and industrial applications. Phoseon's products deliver maximum UV energy, high performance, and real-world reliability for UV LED curing of adhesives, coatings and inks. The Company provides worldwide sales and support capabilities and can be reached at http://www.phoseon.com.