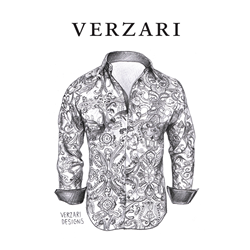 Verzari shirts are designed to be worn untucked
Houston, TX (PRWEB) August 26, 2014
The "Stardust" is another creative piece of artwork from the designers at Verzari.com. But this is artwork that is wearable in the form of a beautiful men's designer shirt with intricate patterns and detailed stitching that makes whoever wears it feel special.
The print and fabric for this shirt was in short supply so the design team at Verzari grabbed all they could and made some very eye popping shirts. Verzari shirts are designed to be worn untucked and with a fit that makes the average man look like he just came from the gym.
Men's designer shirts similar to the "Stardust" normally cost hundreds of dollars at high end stores like Nordstroms. But Verzari sells directly online which means customers are getting a high quality designer shirt at insanely low prices.
Verzari Shirt Features

Made of 100% premium, high quality cotton
Includes two stainless steel collar stays. Verzari never uses plastic!
Hand made and individually inspected. These are not mass produced.
Includes two extra buttons just in case (discreetly sewn on inside)
Unique designs with intricate contrasting fabrics on collar and cuffs
Compare Verzari shirts to Robert Graham and other top men's designer shirts but without the designer price tags.
Take a closer look at the "Stardust" > http://www.verzari.com/stardust/
View the entire Verzari collection > http://www.verzari.com/view-all-shirts/.