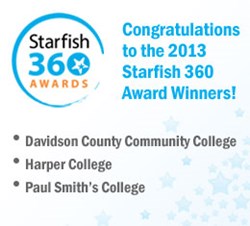 The Starfish 360 Awards Program recognizes the innovation that is possible when institutions combine people, process, and technology to make a difference in the lives of students.
Arlington, VA (PRWEB) September 19, 2013
Starfish Retention Solutions, Inc., a leading provider of enterprise student success systems, is pleased to recognize Davidson County Community College, Harper College, and Paul Smith's College as the winners of the 2013 Starfish 360 Awards Program™. The awards program is designed to recognize institutions in the Starfish client community who have helped students in particularly innovative and impactful ways.
The distinguished panel of independent judges included Catherine Andersen, Ph.D., institute advisor and fellow with The John N. Gardner Institute for Excellence in Undergraduate Education and the former chief enrollment and marketing officer for Gallaudet University; Linda Baer, Ph.D., senior program consultant for i4Solutions and the former interim vice president for academic affairs at Minnesota State University, Mankato; and Sandra Whalen, interim director of the Consortium for Student Retention Data Exchange (CSRDE).
Starfish 360 Award Winners:

Davidson County Community College: DCCC course-completion rates increased by 5 percent between fall 2011, when the college launched the Starfish system, and fall 2012. The judges praised DCCC's ability to generate widespread use of the Starfish system by encouraging faculty collaboration. Learn more.
Harper College: The judges responded strongly to the role of the Starfish system in Harper College's Project Success initiative, designed to address the needs of students in developmental courses. In its initial pilot implementation, Harper College found that the fall-to-spring persistence rate of students who received flags and referrals was 80 percent compared to the college average of 70.5 percent. Learn more.
Paul Smith's College: Since implementing the Starfish system in spring 2010, the first-time student retention rate at Paul Smith's College has increased from 62 percent to 72 percent, keeping more than $3 million in net student revenue at the college. The judges were impressed by Paul Smith's College's ability to directly connect the Starfish system tools to strategic goals in a data-driven way. Learn more.
The judges also selected three Starfish 360 Rising Stars. This distinction is given to institutions that have launched the Starfish system within the past year and have already demonstrated measurable outcomes. The Rising Stars for 2013 are:
Cincinnati State Technical & Community College
Leeward Community College
Worcester State University
"The Starfish 360 Awards Program recognizes the innovation that is possible when institutions combine people, process, and technology to make a difference in the lives of students," said David Yaskin, CEO of Starfish Retention Solutions. "We continue to be inspired by our clients' success stories, and we're proud that the Starfish system is helping them achieve amazing outcomes. Congratulations to the Award Winners, Rising Stars, and all the finalists!"
Award Winners and Rising Star recipients each receive cash prizes to support the ongoing development of their student success programs. More information about the Starfish 360 Awards Program and a list of the 2013 Award Winners, Rising Stars, and Finalists can be found on the company's Web site.
About Starfish Retention Solutions
Starfish Retention Solutions is a leading provider of student success systems. The company offers a collection of software solutions that harnesses the power of the campus community in order to engage, motivate, and graduate more students — securing valuable tuition revenue through student retention. Specifically, the solutions help institutions identify at-risk students in real time, based on their daily coursework performance and faculty concerns, and then connect them to the resources designed to help (e.g., advising or tutoring) — all while assessing which services and interventions are working. For more information, please call 703.260.1186 or visit http://www.starfishsolutions.com..