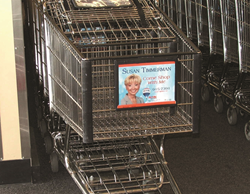 My companies have always created products for the hyper-local business, whether it is shopping carts, display advertising, coupon advertising or online marketing.
Los Angeles, CA (PRWEB) September 03, 2014
Ten years later, StarKart's network now reaches over 10,000 locations in 49 states, Washington D.C. and throughout Canada and has recently expanded their existing network in the Northeast and Midwest. StarKart's motto is "making you the star of the neighborhood" and that is exactly what they have achieved with local businesses since 2004.
Jeffrey Rosenthal, Chairman and CEO of Rose Advertising, StarKart, and the NALA, was one of the founders who created concepts for local grocery store advertising over thirty years ago and was instrumental in forging the path of the "local advertising" industry. As CEO of Rose Advertising, an international advertising agency, combined with his extensive experience understanding the needs of small and medium businesses, Mr. Rosenthal opened StarKart ultimately providing the largest advertising network for grocery cart advertising throughout the US and Canada.
StarKart works with local businesses including REALTORS®, insurance agencies, restaurants, auto shops, medical professionals, attorneys, service companies, among many others. Grocery cart advertising reaches customers who fit the local business' demographic and geographic target market, helping to increase their brand recognition and awareness.
"My companies have always created products for the hyper-local business, whether it is shopping carts, display advertising, coupon advertising or online marketing. In so many cases, small and medium businesses end up using automated or self-serve processes for their marketing needs, requiring these businesses which don't have the time or in some cases, don't have the know-how to formulate their own advertising campaigns," said CEO Jeffrey Rosenthal. "My companies have always used a hands-on approach. We work with our clients individually by customizing campaigns designed to help them stand out in their communities."
StarKart's sister company, the NALA opened in 2010, helping local businesses join the online marketing world, in addition to their offline grocery cart campaigns. The NALA offers a variety of services to help the local business become and remain prominent in their community by providing good web content from news releases and social media to website development and charity programs.
StarKart is proud to have been consistently hiring over the last ten years, during a time of high unemployment rates throughout the United States. For more information about StarKart's advertising or employment opportunities and the NALA's services, please call 866-767-3238.
About StarKart
StarKart has the largest shopping cart advertising network in the United States and Canada offering grocery cart advertising that reaches a network of over 10,000 locations.
About the NALA™
The NALA is a full-service marketing agency providing custom personalized service for small and medium businesses throughout the United States. The NALA consults with each individual business and develops a strategy based on the business' unique advertising and marketing needs. Clients' campaigns focus on providing good web content which include services such as news releases, online advertising, social media, blogs, website development, and charity co-branding, among others.
PR Contact: Tiffani Tendell
805.650.6121 x361
ttendell(at)starkartthenala(dot)com