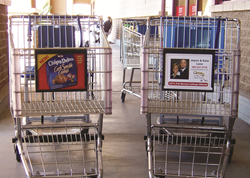 The timing is perfect. It was a great year for us with the expansion and as we move into 2015, we can now offer starkart.com and starkart.net.
Ventura, CA (PRWEB) December 18, 2014
With 2014 coming to an end, StarKart is pleased to announce their recent website makeover and domain extension change, as they have now joined the .com world, with the launch of their new website, starkart.com. StarKart.com boasts a more user friendly and brand new look, with an updated industry-specific gallery for small and medium businesses. More importantly, StarKart has entered the world of .com, the most common extension and preferred by most businesses. As a general rule of thumb, businesses should always try to use the .com for their primary domain, as it is the default domain extension most people use in their searches.
"If you follow the theories of many experts, using the .net for your primary business domain isn't a good idea; however, we ran into a common issue, as the .com wasn't available when StarKart was launched ten years ago," said, Jeffrey Rosenthal, Chairman and CEO of Rose Advertising, StarKart, and the NALA. "The timing is perfect. It was a great year for us with the expansion and as we move into 2015, we can now offer starkart.com and starkart.net."
In addition, the new website offers an informative video about StarKart's unique advertising experience,the cycle rotation program. This allows the client to choose the length of a campaign, how many store locations they want to advertise in and how often they want their ads to change, during the course of that campaign.
Jeffrey Rosenthal was one of the founders who created concepts for local grocery store advertising over thirty years ago and was instrumental in forging the path of the "local advertising" industry. Mr. Rosenthal opened StarKart, ultimately providing the largest advertising network for grocery cart advertising throughout the US and Canada. Ten years later, StarKart's network reaches thousands of locations in 49 states, Washington D.C. and throughout Canada and over the course of 2014, expanded their existing network in the Northeast and Midwest. StarKart's motto is "making you the star of the neighborhood" and that is exactly what they have achieved with local businesses since 2004.
Currently, both StarKart and the NALA are hiring throughout the United States. StarKart's sister company, the NALA, helps local businesses shine in the online marketing world, a perfect complement to StarKart's offline, advertising product. For more information about StarKart's advertising, employment opportunities, or the NALA's services, please call 866-767-3238 or stop by starkartthenala.com/careers.
About StarKart
StarKart has the largest shopping cart advertising network in the United States and Canada
offering grocery cart advertising that reaches a network of over 10,000 locations.
About the NALA™
The NALA is a full-service marketing agency providing custom personalized service for small and medium businesses throughout the United States. The NALA consults with each individual business and develops a strategy based on the business' unique advertising and marketing needs. Clients' campaigns focus on providing good web content which include services such as news releases, online advertising, social media, blogs, website development, and charity co-branding, among others.
PR Contact: Tiffani Tendell
805.650.6121 x361
ttendell(at)starkartthenala(dot)com