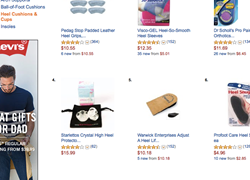 ...to have become Amazon's top selling high heel protector, is amazing.
(PRWEB) July 16, 2014
The team at Starlettos is celebrating the news that the company's signature product has become the best selling high heel protector at Amazon.com.
Starlettos high heel protectors first arrived in Australian stores 5 years ago and since then, have also been available online through the Starlettos website. Their inclusion on Amazon, however, has been a real turning point for the brand.
"We have known for years that we had a superior product" said Starlettos designer Ilde Naismith-Beeley. "After all, it was developed in response to a real need, and has been designed with a balance of elegance and practicality in mind. We know Starlettos stands out in its niche in terms of both quality and design."
This belief has been mirrored by those who search for only the best products to bring to the attention of celebrities. Starlettos were selected for inclusion in the gift bags for nominees at both the 2012 Academy Awards and Emmy's - quite a coup for this business that grew out of the need of one particular bride.
"When planning my own wedding, I faced a challenge that so many other brides do - I wanted a garden wedding, but also wanted to wear my stilettos" explained Ilde. "But I knew only too well that high heels sink into grass and soil - and disaster can result."
So the Starlettos concept was born and now, these flower-shaped plastic high heel protectors have found a home in the purses of women all over the world. They easily slip onto high heels and, as they increase the surface area of the heel in contact with the ground, they stop heels from sinking.
Starlettos also reduce the chance of heel damage to gowns, and give greater stability when staircases and shiny floor surfaces need to be negotiated by high-heel wearers.
Continued Growth For Starlettos
"Being on Amazon, receiving such positive buyer feedback, and having the ability to use FBA Amazon fulfillment has made a massive difference to our reach. We know that Amazon has a commitment to quality, so to not just be included on the site, but to have become Amazon's top selling high heel protector, is amazing" said Ilde.
"It is also opening doors to other markets for us, and we have been approached by other channels, including Rakuten, to begin selling Starlettos in Japan.
Starlettos are available on Amazon at http://www.amazon.com/Starlettos®-Crystal-Protectors-Confidence-Weddings/dp/B0070RUXU8
About Starlettos:
Australian-designed, globally-loved.
Starlettos are high heel protectors with a focus on design. They are easily slipped on and off stilettos and high heels to prevent them from sinking into grass at high-fashion outdoor events. With the added benefit of a non-slip base, they provide the wearer with red-carpet confidence at events where high heels star: weddings, proms, and public ceremonies. Starlettos are the brainchild of Australian Ilde Naismith-Beeley, and were the result of her own desire to wear beautiful shoes at her outdoor, on grass, wedding. In the process of creating Starlettos, Ilde solved three other stiletto-wearing dilemmas – getting stuck in grooves, slipping on dance floors, and potential damage to expensive gowns.
To learn more about Starlettos, to find a retailer or to order online, visit Starlettos.com