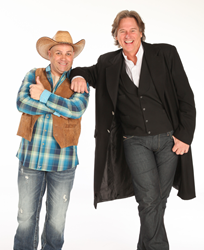 "I have been having a great time performing my shows this spring at the Starlite," says Billy Dean. "It is going to be even more fun and definitely sometimes crazy adding Jarrett to the mix of entertainment we offer."
Branson, MO (PRWEB) April 23, 2014
The Starlite Theatre is excited to announce well-known Branson comedian Jarrett Dougherty will be joining the powerhouse Starlite Theatre line-up of talent.
Jarrett is creating a whole new cast of zany characters to join Grammy Award winner Billy Dean on stage as part of Billy Dean Live starting at 7:30 p.m. May 13, 2014 at the Starlite Theatre. "I have been having a great time performing my shows this spring at the Starlite," says Billy Dean. "It is going to be even more fun and definitely sometimes crazy adding Jarrett to the mix of entertainment we offer."
To celebrate Jarrett's arrival, the Starlite Theatre will kick off with an amazing offer of "Dinner and a Show" for the price of admission. Buy (1) one adult ticket and enjoy a complimentary meal at The Starlite Diner. This great deal is only available in May, for the Billy Dean show.
A native of the Ozarks and performing in Branson since 1995, Jarrett quickly gained popularity for his musical and comedic talents. Jarrett's side-splitting humor has rightfully earned him recognition as one of Branson's funniest comedians.
While seeking a work-life balance, Jarrett could not resist the opportunity to perform with country great, Billy Dean. Dougherty asserts, "I feel privileged to be given the chance to showcase my comedy alongside such great musical talents at the Starlite Theatre. It is definitely the hottest place for the coolest show in town!"
Linda Merkling, General Manager says, "Jarrett is a true pro and an excellent addition to our team! We are excited about his talent! Life is stressful, Jarrett is guaranteed to make you laugh and put a smile in your day!"
Country music superstar Billy Dean has been performing with his hot band Steel Horses at the Starlite Theatre. A dynamic mix of country rock plus all the hits you remember from the ACM Male Vocalist of the Year and Grammy-Winner Billy Dean, who owns over 20 hit singles, 11 Top Ten hits and 4 Gold Albums.
Show tickets and times are available by calling (417) 337-9333 or online at http://www.StarliteTheatre.com. Branson's biggest stars and best shows are ALWAYS at The Starlite Theatre.