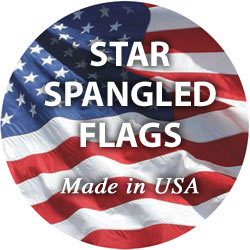 (PRWEB) February 27, 2014
With the successful release of their popular 3x5 nylon American Flag on Amazon, Star Spangled Flags is partnering with the online retailer to offer a special 30% coupon off the regular price by entering code PR30FLAG at checkout through the end of March—an excellent opportunity for those needing to replace old, worn out flags with a durable, high quality new one as spring approaches.
Those who are struggling to find a premium quality, 100% Made in the USA outdoor flag can now shorten their search by going to the Amazon store and examining the 3x5 nylon American flag from Star Spangled Flags. This flag is completely made in America using American sourced materials and labor. This is also verified by the authentication label that is sewn into the flag's seam. It is produced with tough and long lasting materials that can withstand all types of weather and continue to look great.
Customer reviews on Amazon have been very favorable. For example, Star Spangled Flags customer Cara Lee said, "Great quality flag! Nice box! Plastic wrapped inside for extra protection! Shipped fast! Very pleased! And triple, double dog bonus points for being made in the good ol' U.S. of A."
The flag is crafted with heavyweight 200 denier nylon materials that can resist fading in the sun as well as chemical deterioration. The flag is also embroidered with bright white stars using tightly filled thread count for an excellent presentation. Integrating superior lock stitches, the flag is sewn with white and red stripes stitched with two rows on each seam to prevent them from unraveling. The flag's fly end is sewn with lock stitching in four rows to improve its durability as well as prevent it from fraying.
Another great benefit of their 3x5 nylon American Flag is that it uses two strong brass grommets for its mounting. It is made with a nylon cloth that displays brighter and deeper colors that lasts. The flag works well with both self standing poles and mounted poles. It can also be hung as a banner flag. Star Spangled Flags are carefully made according to exact specifications that guarantee magnificent presentation and long life while being backed with a 100% satisfaction guarantee.
For more information about the product, visit their Amazon page at http://www.amazon.com/American-Flag-3x5-Embroidered-Satisfaction/dp/B00HS53SHW or the official Star Spangled Flags business website at StarSpangledFlags.com.