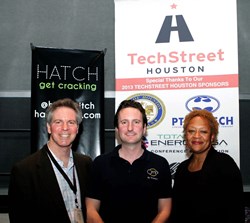 Congratulations to our winners and also to our finalists, who provided such strong competition
Houston, TX (PRWEB) November 22, 2013
HATCH Pitch, the revolutionary startup pitch competition, announced its winners at TechStreet Houston Wednesday night at the George R. Brown Convention Center. Each of the 12 finalists had four minutes to pitch their idea before fielding questions from a panel of judges.
Virtuix took the top prize, with Pristine and Epic One winning second and third places, respectively. There were two additional awards. Each of the two sessions had a Crowd Favorite award, which was determined by the live HATCH pitch audience. These went to Virtuix and GMEX. ClanOgraphy won the Social Media award for using social media to reach the most fans.
"HATCH pitch was a great experience and we're excited to walk away with first place," said Jan Goetgeluk, chief executive officer of Virtuix. "The judges asked thoughtful questions, the coaching before the pitch was a valuable learning process, and we met fantastic people at the event."
Finalists for HATCH pitch were selected based on a range of criteria including how revolutionary the idea is, how the company is making life better, what's great about the founders and team, and how scalable the product is. Each participant presented their business plan to a panel of corporate, angel, and venture investor judges in front of a well-connected audience at the first-ever TechStreet Houston.
"Congratulations to our winners and also to our finalists, who provided such strong competition," said Greg Wright, HATCH pitch founder. "I hope that the coaching they received and the experience of presenting at HATCH pitch will serve as a springboard for these innovative companies. I'd like to recognize the awesome team of volunteers and our judges who make HATCH pitch magic happen."
The HATCH pitch judges were Juliana Garaizar (Managing Director, Houston Angel Network), Gaurav Khandelwal (Founder, ChaiONE), Kerry Rupp (CEO, DreamIt Ventures), Jay Steinfeld (CEO, Blinds.com), Keith Kreuer (Principal, RedHouse Associates), Neal Murthy (Managing Director, Indalo Solutions), Rick Pleczko (Entrepreneur-in-Residence, Austin Ventures), Russ Conser (recently retired leader of Shell's global GameChanger team), Chris Valentine (Organizer, SXSW Accelerator and Startup Village), Sameer Soleja (Founder and CEO, Molecule and HATCH 2013 winner), and emcee, Stephen White (Founder and CEO, Qukku).
Providing an additional opportunity for startups to participate, HATCH pitch and Qukku partnered to host the "Are you HATCH-worthy?" crowd-voted video pitch contest. This was won by SportsTradex.
HATCH pitch will return to SXSW Interactive on March 10, 2014. Startups interested in presenting can join the mailing list and HATCH pitch will inform them when applications are live http://www.hatchpitch.com/pitch-competition-sxsw-2014/.
About HATCH pitch
HATCH pitch is the revolutionary pitch competition for tech startup companies making life better. After playing to capacity audiences at SXSW Interactive in Austin the past two years, HATCH pitch made its Houston debut on Wednesday, November 20th. Previous winners, Distil Networks, RideScout, and Realty Mogul, have garnered phenomenal attention from the press and investment communities. Distil received a $1.8 million seed investment from a HATCH pitch judge after winning HATCH pitch 2012! To learn more go to http://www.hatchpitch.com or connect with us on twitter @HATCHPITCH and Facebook at facebook.com/HatchPitch.