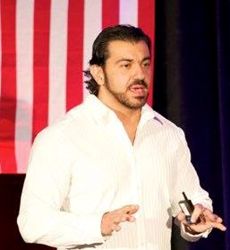 One of the biggest mistakes new fitness entrepreneurs make is spending money on start-up before they've spent enough time on planning.
Chino Hills, CA (PRWEB) June 04, 2014
Bedros Keuilian is the founder of the international fitness franchise Fit Body Boot Camps and is also a fitness marketing coach to personal trainers throughout the country. He says that one of the biggest mistakes new fitness entrepreneurs make is spending money on start-up before they've spent enough time on planning. He says one of the most important things he does as a coach is teach clients how to start a fitness business on a budget.
"Whether I'm coaching a personal trainer or someone who's opening a fitness boot camp, I always stress the importance of starting as inexpensively as possible," says Keuilian. "I know a lot of companies that sell franchises actually try to get as much money as possible out of their franchisees, but that's just not good business. If your franchises fail because they don't have enough money to operate that first year, you've just shot yourself in the foot."
Not all of his coaching clients are potential franchisees. Thousands of personal trainers learn how to market their own businesses using the techniques and strategies he teaches; the same strategies that helped him build his own fitness empire almost 15 years ago.
In a popular video on how to start a fitness business, Keuilian explained three keys to starting out on a budget.
"The first thing any personal trainer or fitness entrepreneur needs to do is to identify their niche market," he explains. "When I started my first fitness boot camp, I tried to serve everybody, but being too general means that you have to compete with everyone else in town and that's counterproductive. The fastest way to rise to the top of your market is to serve a specific part of that market."
Keuilian adds that some personal trainers may want to target busy moms while others may want to focus on athletes or young professionals. "No matter what community you're in, there's a niche that someone hasn't filled yet."
Keuilian says the second key is to negotiate for cheap rental space. "The single biggest start-up cost for any fitness business is space," he explains. "Most fitness businesses don't have the clientele to pay for that space when they first open for business. They need 90 or 120 days to build up enough business to meet that expense. Many dance studios, gyms and martial arts schools will be glad to work out a reduced rent in exchange for you bringing new business through their doors."
He explains that the third key is for personal trainers to use their clients as what he calls "human billboards."
"Your successful clients are your best advertising and that advertising is free," he adds. "A lot of entrepreneurs dump a ton of money into marketing costs when they first start up. They need to find cheap and even free ways to market their business. No ad will ever be as good as a client whose life and body have been changed with your help. Don't be shy about asking them to talk about you on Facebook, on Google+ or at their next PTA meeting. Nothing is as effective as word-of-mouth and it doesn't cost you a dime."
For cash-strapped personal trainers who are wondering how to start a fitness business on a budget, Keuilian says that these three keys, some creative thinking and a lot of determination are all it takes to succeed, even with limited funds.
About Keuilian Inc.
Keuilian Inc. (est. 2007) was founded by fitness marketing and business consultant Bedros Keuilian, who has been named the "hidden genius" behind several of the biggest names in the fitness industry. In addition, he is also the founder of the popular fitness marketing blog, PTPower.com, and founder and CEO of the indoor fitness boot camp franchise, Fit Body Boot Camp.
To find out more about Bedros Keuilian and his fitness boot camp franchise, please visit http://www.ptpower.com/ and http://www.myfitbodybootcamp.com/.