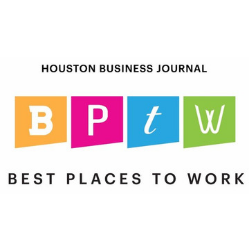 HOUSTON (PRWEB) November 01, 2018
StarTex Software, a premier provider of enterprise risk management solutions, announced today that it has been named one of the "Best Places to Work" in Houston by the Houston Business Journal. StarTex Software ranked 20th in the small companies category.
"One of our highest ambitions has always been to develop our company culture into one that engages employees and brings out the best in each of them," said Gary McDonald, President and CEO of StarTex Software. "We pride ourselves in creating an excellent work environment, but we also strive to have an exceptional work-life balance. So, besides selecting a great office location, we support flexible schedules and let employees work from home when it suits them."
To be considered for the award, employees are asked to complete an assessment, administered by Quantum Workplace, that evaluates their company in multiple categories, including workplace culture, job satisfaction, team engagement, leadership style, work-life balance, compensation and perks.
StarTex Software was founded in 2009 with the goal of delivering the most usable, highest performing and visually appealing cloud software solutions designed to help organizations reduce asset risk, improve people productivity and manage regulatory compliance. Today, StarTex Software has over 100,000 software users in more than 45 countries with corporate offices in Houston and The Hague, Netherlands.
About StarTex Software
StarTex Software is a provider of cloud software solutions for the enterprise risk, environment, health and safety sectors. For nearly two decades, the StarTex Software team has provided software that enables organizations to address business critical challenges in novel ways. From artificial intelligence-based logistics rating and routing to smarter, digital technology-enabled oil production, no problem has been considered out of reach. Headquartered in Houston, with offices in the Netherlands, StarTex Software is a subsidiary of Petrotechnical Data Systems, a Dutch-based oil and gas exploration and production software company. For more information, visit http://www.startexsoftware.com.