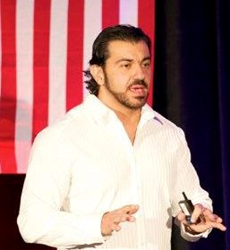 People starting a fitness boot camp now are able to pretty much get a business in the box and for less money than it cost me when I first started.
(PRWEB) July 02, 2014
Bedros Keuilian may have founded the Fit Body Boot Camp franchise over a decade ago, but he says that today's marketplace is even more ideal than it was then. According to Keuilian, whose franchise now has over 1500 locations worldwide, tight budgets and increasingly busy schedules mean starting a fitness boot camp makes more sense now than it ever has before.
"When I first started opening fitness boot camps, they were relatively unknown," says Keuilian. "But they've become huge. More people are interested in getting healthy and getting fit, but they don't want to just wander around a gym on their own and they don't have the time or money to hire a personal trainer."
Keuilian explains that because most fitness boot camps offer very short, intense sessions utilizing functional fitness training and high-intensity interval training, clients are able to make time for fitness and yet get all the benefits of their own personal trainer. At the same time, fitness boot camps charge far less than private training and even less than many big box gym trainers. Additionally, he says that the fitness boot camp model is ideal for trainers whose schedules and budgets are equally tight.
"It's a win-win for the trainers and the clients," he explains. "Personal trainers who are still training one-on-one don't make all that much money and they usually work incredibly long hours. Starting a fitness boot camp costs extremely little compared to most businesses, and allows trainers to make more money working fewer hours."
Keuilian's Fit Body Boot Camp franchise is known in the industry as "the anti-franchise franchise" because of its very low buy in cost and flat monthly franchise fees.
"We wanted to make starting a fitness boot camp affordable for anyone and we also wanted to motivate people to succeed, rather than charging them more and more money as they grew," he explains. "Most fitness businesses cost anywhere from $70,000 to $200,000 just to get on board, plus you have to buy all of your equipment through them. I don't think that's fair or necessary. We also don't charge a percentage of revenue like most fitness franchises. I think that penalizes business owners for being successful and it keeps personal trainers from taking that step of buying into a franchise."
Keuilian says that shorter sessions at a low cost and with great results are the perfect solution for busy people trying to live a healthier lifestyle on a budget. At the same time, group training and low start-up costs make the fitness boot camp equally ideal for personal trainers who are burned out and have little capital.
"In some ways, I envy people that are just getting into it now, because I had to build it from the ground up and learn as I went. People starting a fitness boot camp now are able to pretty much get a business in the box and for less money than it cost me when I first started."
About Keuilian Inc.
Keuilian Inc. (est. 2007) was founded by fitness marketing and business consultant Bedros Keuilian, who has been named the "hidden genius" behind several of the biggest names in the fitness industry. In addition, he is also the founder of the popular fitness marketing blog, PTPower.com, and founder and CEO of the indoor fitness boot camp franchise, Fit Body Boot Camp.
To find out more about Bedros Keuilian and his fitness boot camp franchise, please visit http://www.ptpower.com/ and http://www.myfitbodybootcamp.com/.