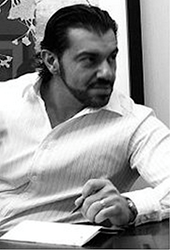 It's really important to have a set plan from the get-go, but that plan needs to be very simple and it needs to be very efficient and effective.
Chino Hills, CA (PRWEB) October 11, 2014
Bedros Keuilian is considered the leading expert in fitness marketing, having founded the fastest-selling fitness boot camp franchise in the world and coached thousands of clients through his information products, blog and seminars. In his latest video, uploaded this week, he explains the first three things that people need to do when starting a fitness boot camp.
"It's really easy to feel like you have to run in every direction at once," says Keuilian, "Especially if you've never owned a business. It's really important to have a set plan from the get-go, but that plan needs to be very simple and it needs to be very efficient and effective. Otherwise, you're liable to run out of time and money before you even have a chance to succeed."
In Keuilian's latest video on starting a fitness boot camp, he lays out the top three priorities for every new boot camp owner. He says the first step is to treat the business like a business and get into the proper location.
"Too many people make the mistake of thinking they can run a successful boot camp at a city park or at a school playground," says Keuilian. "But those places are really cracking down on that, plus the liability issues and variables with weather and community events are just too much of an issue."
Instead, Keuilian says that boot camp owners need to find a lease space for their business, but he cautions against going too big and expensive. "You really only need about 1500-2500 square-feet to start. You can always move to a bigger location later. All you need is about 1000 square feet to work out, a bathroom and a good lease."
Keuilian advises boot camp owners to negotiate a three-year lease instead of the standard five, and also to ask for the first few months rent free in exchange for improvements, a longer lease, or some clean-up.
The second priority is to begin marketing on Facebook. "Facebook is by far the most effective social media marketing tool," says Keuilian. "Get on there and start posting great content and tips and use targeted marketing to offer people a really great low barrier offer, like 14-21 days of workouts for anywhere from $29-79."
Keuilian says that this strategy not only brings in some income, but gives the boot camp owner a couple or three weeks to establish trust and get clients great results so that they'll sign up for an annual contract at the end of the trial period.
"The third step is to get out where you target market is," says Keuilian. "Where do they shop? Where do they eat? Where do they go for fun? Get over there and pass out coupons for your low barrier deal or offer them a body fat test, a free workout or a free consultation."
"Starting a fitness boot camp is hard work and it can be stressful," says Keuilian. "But I've seen some of our boot camp owners go from zero to $100,000 income in less than a year, so stay confident and keep moving forward."
About Keuilian Inc.
Keuilian Inc. (est. 2007) was founded by fitness marketing and business consultant Bedros Keuilian, who has been named the "hidden genius" behind several of the biggest names in the fitness industry. In addition, he is also the founder of the popular fitness marketing blog, PTPower.com, and founder and CEO of the indoor fitness boot camp franchise, Fit Body Boot Camp.
To find out more about Bedros Keuilian and his fitness boot camp franchise, please visit http://www.ptpower.com/ and http://www.myfitbodybootcamp.com/.