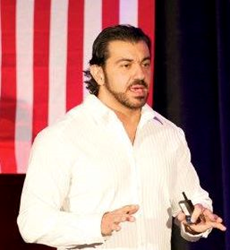 Even though the market is ripe for a fitness boot camp business, there are several questions that a personal trainer needs to ask before they make a decision to grow beyond one-on-one training.
Chino Hills, CA (PRWEB) June 02, 2014
Bedros Keuilian made his first fortune by starting what is now a global fitness boot camp franchise. He made his second by becoming a consultant to celebrity trainers, television network fitness personalities and every day personal trainers who's goal it is to help folks in their community. Keuilian says that now is probably the best time he's seen for starting a fitness business such as a boot camp, but that not every personal trainer should take that leap. He warns that while the timing may seem perfect, there are some questions that need to be answered before rushing in.
"There are some awesome personal trainers out there that, for one of several reasons, may not be ready to start their own business just yet," he says. "Also, some personal trainers are great at what they do, but not well-suited to running a larger business."
Keuilian explains even though the market is ripe for a fitness boot camp business, there are several questions that a personal trainer needs to ask before they make a decision to grow beyond one-on-one training.
"I have a set list of ten questions that I tell people to ask themselves before they decide whether or not to open a fitness boot camp, but there are three that I consider most important," he explains.
The first is whether or not their families, friends and peers are supportive of the idea. "Starting a fitness business is physically, mentally and emotionally demanding," says Keuilian. "If your spouse, your friends and your family can't encourage you to hang in there and keep moving forward, chances are you'll quit before you have a chance to succeed."
The second question is how much the start-up will actually cost. "You can start a fitness boot camp on very little money, if you're smart with your decisions and realistic about your expectations," he explains. "But most small businesses fail in the first year because of lack of capital. They just don't have enough set aside to pay the expenses until the revenue can cover them. Trainers need to be realistic about how much it will cost to rent space, pay for insurance, buy equipment for their facility and so on. They also need to have a firm grasp on how much their monthly expenses will be and how many of their current clients will be staying with them."
Keuilian adds that his best advice on expenses is for trainers to start small, buy only the necessities and wait until the money is coming in before they spend on the extras. "You'll have time later on to make the place look awesome or to get those T-shirts made. In the beginning, spend your money on the things that will actually make you money."
The third question, says Keuilian, is about where to locate the fitness business. "A lot of people think they need an expensive store-front in a mall to get their business started off right," he says. "But personal training isn't an impulse buy. You don't need street visibility. Most clients will come from marketing and word of mouth. It's better to start out in a light industrial or warehouse space that's much less expensive and perfectly suited for fitness training."
Keuilian believes that 2014 will continue to be an excellent year for opening a fitness boot camp or personal training facility. "People are busier than ever; they don't have time to spend an hour a day in the gym. They're also more out of shape and overweight than ever, so they want results and they want them fast. People are catching on to how ideal a fitness boot camp is for both of those reasons, and demand is really high. I don't expect it to go down anytime in the near future.
He adds that if personal trainers go into the venture with their eyes open and their plans in place, starting a fitness business in 2014 may be one of the best decisions they'll ever make.
About Keuilian Inc.
Keuilian Inc. (est. 2007) was founded by fitness marketing and business consultant Bedros Keuilian, who has been named the "hidden genius" behind several of the biggest names in the fitness industry. In addition, he is also the founder of the popular fitness marketing blog, PTPower.com, and founder and CEO of the indoor fitness boot camp franchise, Fit Body Boot Camp.
To find out more about Bedros Keuilian and his fitness boot camp franchise, please visit http://www.ptpower.com/ and http://www.myfitbodybootcamp.com/.