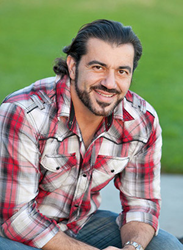 Keuilian's advice to those people is to remember that every day they delay in opening their business is another day that they aren't sharing what they have to offer.
Chino Hills, CA (PRWEB) July 01, 2014
Bedros Keuilian, the man behind PTPower.com, the Annual Fitness Business Summit and the globally-franchised Fit Body Boot Camps knows how scary it is for people who are just starting a fitness business. He started six, the first two of which failed. But he says that he often sees people who sabotage their own goals out of fear and never make it to the business launch.
"There are two ways that I see people sabotaging themselves all the time," says Keuilian. "They get bogged down in the unimportant details and don't get to the important stuff, or they keep waiting for everything to be perfect before they launch."
Keuilian says that both of these acts of self-sabotage are usually born of fear – a fear he understands very well but also knows how to overcome.
"Someone will come up to me at a fitness business summit or even just at a restaurant and they'll tell me they're starting a fitness business. Six months later I'll contact them and ask how it's going and they'll say, 'I haven't launched yet, I'm working on my logo.' They're trying to work their courage up for the actual launch by majoring in the minors; by mastering the minute details."
Keuilian's advice to those people is to remember that every day they delay in opening their business is another day that they aren't sharing what they have to offer. "It may sound a bit corny, but there are people out there that want and need what you have to offer, whether it's a great fat loss diet or an awesome fitness boot camp. Every day that you put off launching your business, you deprive yourself and your potential customers of a better way of life."
Keuilian explains that the other act of self-sabotage he frequently sees is the quest for perfection. "I meet people all the time who are wasting a ton of time trying to design the best T-shirt for their boot camp before they've got a place to train or find the best cover designer for their e-book before they've even written it. You don't need a cover to start writing and you don't need cool T-shirts to start training clients."
Keuilian's remedy for these procrastinating perfectionists is to have faith in what he calls "imperfect action".
"I tell my coaching clients all the time that imperfect action is always better than perfect inaction, especially when you're starting a fitness business," he explains. "Inaction gets you nowhere. Imperfect action at least moves you forward and the feedback from your clients will help you to tweak and improve whatever it is you're doing. In any event, you'll be in business, you'll be earning some money and you'll learn as you go. You don't have to be a perfect driver to win a race, but you do need to start the car."
About Keuilian Inc.
Keuilian Inc. (est. 2007) was founded by fitness marketing and business consultant Bedros Keuilian, who has been named the "hidden genius" behind several of the biggest names in the fitness industry. In addition, he is also the founder of the popular fitness marketing blog, PTPower.com, and founder and CEO of the indoor fitness boot camp franchise, Fit Body Boot Camp.
To find out more about Bedros Keuilian and his fitness boot camp franchise, please visit http://www.ptpower.com/ and http://www.myfitbodybootcamp.com/.