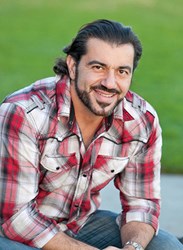 Delivering an amazing customer experience is the secret to any business, but it's especially true for personal training...
Chino Hills, CA (PRWEB) February 08, 2014
PTPower.com, the #1 fitness marketing blog used by thousands of personal trainers worldwide, reveals four unconventional ways to "entertrain" and build client culture in order help personal trainers who are starting a fitness business sign on more clients and increase client retention.
Bedros Keuilian, creator of the fitness marketing blog, emphasizes the importance of delivering an unforgettable client experience by saying, "Delivering an amazing customer experience is the secret to any business, but it's especially true for personal training. Fitness business owners rely on referrals and positive word of mouth, so creating an experience that really WOWs your clients will set you up for long-term business success."
When looking to create this type of experience for clients, PTPower.com suggests that personal trainers start by "putting on a show" to get clients pumped up and ready to get through their upcoming workout. Most personal trainers know how to "bring the energy" to their training sessions, but a lot of them aren't sure of how to keep the excitement going. To help with that, here are PTPower.com's four ways to build client culture through "entertrainment":
1. Hire a DJ for the day. This may sound a little odd, but hiring a DJ for a day of sessions is a great way to amp up the energy and the feel of a fitness facility. Clients will work harder during their workout and the presence of a DJ tends to break up the monotony of exercising. Be sure to let your DJ know what kind of music you're looking for so you know what to expect when they arrive. You could try and offer the DJ a couple of free personal training sessions.
2. Bring in a post-workout snack once a week. Your clients will appreciate the gesture and it will start to look forward to it. Bring in a veggie tray or get creative and bake your own protein bars or cookies.
3. Keep the energy high and the workouts fresh. No one wants to keep doing the same workout over and over again, especially if they have a boring personal trainer training them. Make your client's workout the best part of their day by showing them how fun exercise can be. Poll your clients to see what music they like and play it loud.
4. Incorporate games into the session. This works especially well for those who operate a boot camp or group personal training business. Adding fitness games or mini competitions is a great way to bring your clients together. One-on-one personal trainers also do this by adding in fitness challenges every so often and rewarding your clients effort with a gift card or free session.
About PTPower.com
PTPower.com, first launched in the beginning of 2007, is a fitness marketing blog created Bedros Keuilian to help personal trainers grow their business. Keuilian is a fitness business consultant and marketing expert who teaches personal trainers how to start a fitness business, get more clients and achieve financial freedom. He is also the founder of the fast growing Fit Body Boot Camp franchise. To learn more about PTPower.com or the Fit Body Boot Camp franchise, please visit http://ptpower.com/ and http://www.myfitbodybootcamp.com/