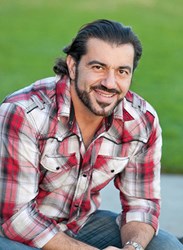 The first thing I would do if I were starting a personal training business today is to choose who I wanted to serve. This is the number one mistake I made when I first started out a trainer and I struggled for years because of it…
Chino Hills, CA (PRWEB) December 06, 2013
"The first thing I would do if I were starting a personal training business today is to choose who I wanted to serve. This is the number one mistake I made when I first started out a trainer and I struggled for years because of it…" says fitness business insider and creator of the popular fitness marketing blog known as PTPower.com, Bedros Keuilian, who is now ready to reveal some of the biggest secrets behind starting a personal training business.
Keuilian admits that he had a hard time coming up in the fitness industry due to lack of business experience and doesn't want that to happen to other struggling personal trainers who may be interested in starting and running their own fitness business.
He says that is what inspired him to reveal the top 5 biggest secrets for starting a personal training business on a budget.
They are:
1. Pick a target market for your business. The reason picking a target is important is because it sets up how you are going to go about marketing your new fitness business, and for marketing to be effective it must be geared towards a specific audience. Choosing a target market can be easily done if you think of your ideal client. For example, if you're a personal trainer who enjoys training other athletes then starting a personal training business based on that will help you to come up with solutions for that specific market.
2. Network with other local business that relate to your target market. If you've chosen your target market well, and you understand what kind of people they are then your next step is to find out where they like to spend their time. Places like school sporting events, healthy restaurants, grocery stores, churches, and local small business groups are all great places where you can start a strategic partnerships with owners to promote each other's businesses.
3. Get email addresses and build a list. Building a list is really important in getting the word out about your business and the services you offer without having to spend much money on fliers and postcards that yield less success. The best way to capture email addresses is to have everyone who comes into your facility or your website fill out a quick questionnaire and be sure to include an area for them to leave their email address. When you start to build your list, you'll want to send out great content that your prospects and clients will find useful. Building an email list is the most cost effective way to remind clients and prospects that you are always there to help them achieve their health and fitness goals.
4. Use social media to your advantage. The best way to build a name for yourself and your personal training business is to use social media sites like Facebook, Twitter, Google+, Pinterest, Youtube, and even Instagram. They're fantastic marketing tools that allow you to connect with your current clients and prospects, and let's face it… if your business is not being promoted on social media sites, then you're missing out on a lot of potential clients.
5. Deliver an amazing experience. People will want to work out at and recommend your training facility if you deliver an amazing experience. For example, you should be going above and beyond for your clients in getting them the results that want, making each and every workout loads of exciting fun, and creating a sense of community within your gym.
About Keuilian Inc.
Bedros Keuilian has been called the "hidden genius" behind many of the biggest names in the fitness industry – including top celebrity fitness trainers seen on television networks such as ABC and NBC. Keuilian is also the founder of the popular fitness marketing blog used by thousands of personal trainers worldwide, PTPower.com and president of the world's fastest growing indoor fitness boot camp franchise, Fit Body Boot Camp. Keuilian is a long time fitness business coach, consultant, and marketing expert who has taught thousands of personal trainers worldwide how to grow a fitness business.
To find out more about Bedros Keuilian and his fitness marketing blog, PTPower.com, please visit http://www.ptpower.com/