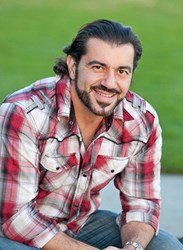 Don't spend so much time and money on creating the perfect workout space...
Chino Hills, CA (PRWEB) February 04, 2014
Bedros Keuilian, fitness marketing expert and creator of the popular blog PTPower.com, has just released a brand new video offering advice to fitness professionals looking start a personal training business on a budget. Keuilian admits that he made this video in order to help more personal trainers who lack a strong business background find the best methods for opening a facility without going into major debt.
He explains, "I wanted to make this video so I could reach fitness professionals and give them solid advice on starting a business because a lot of them tend to go the extra mile and spend more than they should when opening a training facility. I wanted to prevent a headache for personal trainers looking to venture out."
In this new video, Keuilian goes over important topics like how to choose a location, how to leave extra money on the table for critical business expenses such as marketing, and ways to find more personal training clients.
"Don't spend so much time and money on creating the perfect workout space. Make it look nice, but don't go to the extreme when designing your space and overspend," says Keuilian. "You also don't need to worry about street visibility to get clients because marketing will do that for you, so don't focus so much on the location."
Starting a Personal Training Business, out now on the Bedros Keuilian Youtube Channel, offers solutions to the most pressing issues that fitness professionals face when starting a new business. Hoping to set more personal trainers up for success, Keuilian's new video is a useful tool for those who are considering making the switch from a personal trainer to a fitness business owner and even gives examples of how to get clients into their new fitness facility.
To read more of Keuilian's expert advice on starting a personal training business, please visit his fitness marketing blog - http://ptpower.com/.
About Keuilian Inc.
Keuilian Inc. was founded by fitness marketing expert, Bedros Keuilian. Keuilian has been called the "hidden genius" behind many of the biggest names in the fitness industry – including top celebrity fitness trainers seen on television networks such as ABC and NBC. He is also the founder of the fitness marketing blog, PTPower.com, and president and CEO of the indoor fitness boot camp franchise, Fit Body Boot Camp. Keuilian is a long time business coach who has taught thousands of personal trainers how to grow their business, make more money, and get more clients.
To find out more about Bedros Keuilian and his fitness boot camp franchise, please visit http://www.ptpower.com/and http://www.myfitbodybootcamp.com/.