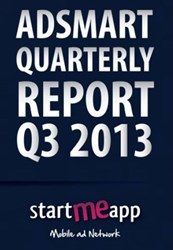 StartMeApp's Q3 AdSmart report demonstrates our growing reach into the U.S. market and that with our 8.6 billion monthly impressions across the LatAm region we continue to be the largest mobile advertising network in Latin America.
Miami, FL (PRWEB) October 28, 2013
StartMeApp (http://www.StartMeApp.com), the global mobile ad network and Latin America's leader in mobile advertising, today released its latest AdSmart Quarterly Report for Q3 2013, showing the network logged 20 billion monthly impressions during Q3, representing a third consecutive quarter of strong growth and a year-to-date increase of 100% in monthly impressions on StartMeApp's worldwide mobile advertising network.
Announced here during a week of presentations to brands and advertising agencies during StartMeApp's Fall 2013 U.S. Road Show, the 3Q AdSmart Quarterly Report highlights a number of milestones in the performance and growth of the two-year-old mobile ad network, including:
● Q3 growth in North America of 63%, reaching 2.95 billion monthly impressions during the quarter;
● Quarterly global impressions growth of 33%, from 15 billion monthly in Q2 to 20 billion monthly during Q3;
● 8.6 billion Latin America pan-regional impressions monthly, comprising 43% of the network's worldwide Q3 total;
● Quarterly growth of 30% in monthly impressions across Latin America during Q3; and,
● An ongoing global surge in impressions on Apple iOS devices on the network, driven largely by a 5% increase in iOS impressions in North America, a 4% increase for iOS in Europe and 2% increase for iOS across Latin America.
"StartMeApp is very pleased to share the results of our Q3 AdSmart network usage report, which demonstrates our reach into the U.S. market with a 63% surge in impressions in North America and shows with our 8.6 billion monthly impressions across LatAm that we continue to command the decisive leadership position in the Latin American mobile advertising market," said Alejandro Campos Carles, Co-Managing Director and Founder, StartMeApp.
An independent, privately owned mobile advertising network, since its launch in 2011 StartMeApp has delivered tens of thousands of effective brand campaigns for clients that include well-known global and regional corporate brands, such as Coca Cola, Skype, Audi, Adidas, Air France, Fox Latino, Chevrolet, Samsung, Microsoft, Peugeot, Allianz, Claro, Despegar.com and others.
StartMeApp's popularity among brands and ad agencies stems from the network's emphasis on brand safety and transparency, allowing advertisers to see exactly where impressions are served as they target premium mobile content from leading publishers that include Rovio, Reuters, Sega, Wordpress, Flixter, Grooveshark, Nimbuzz, ESPN, Zynga, Accuweather, Craigslist, The Weather Channel and many more.
"Global brands and agencies looking for premium mobile content inventory in Latin America and worldwide choose StartMeApp because they know we can deliver the most appropriate inventory for their brand, at the right time, in the right place and on the precise devices and OS that will help them best reach their target audience," said StartMeApp's Co-Managing Director and Founder Gaston Fonzo.
During Q3 2013, the StartMeApp network worldwide showed a 2% increase worldwide in impressions on mobile devices running on Apple's iOS, with the iOS share of monthly impressions rising by 5% in North America (including Mexico), 4% in Europe, 3% in Asia-Pacific region and held steady at 2% in Brazil and the rest of Latin America.
The Android OS showed a slight share decline of 1% in impressions worldwide, resulting from a regional shift in impressions during Q3 toward StartMeApp's fast-growing North American market, where iOS made a strong showing on the network. The OS breakout by region on the StartMeApp network during the third quarter included the following highlights:
● In North America (tabulating the USA, Canada and Mexico), Apple's iOS gained most from the ongoing decline of the Symbian OS, rising 5% from 33% in Q2 to 38% of the Q3 total impressions on the StartMeApp network in North America for the quarter -- Android held steady in North America, with a 35% share of impressions, as did "other" OS, which showed no gains at 18% of the regional total;
● In Latin America, iOS continued to increase in market share, gaining 2 percentage points to reach 24% of the regional total of impressions, while Android held steady at 46% of regional impressions and "other" OS impressions rose 2% to region 5% of the regional total.
● In Europe, Apple's iOS increased 4% regionally during Q3 2013 in contrast with Android and "other" OS, which each declined slightly by 2% in their respective share of impressions on the StartMeApp network in the European market; and,
● In the APAC region, iOS increased its share 3 percentage points to account for 57% of regional impressions, while the Android share of impressions grew 6% to reach nearly 24% of all APAC impressions.
The share of StartMeApp network impressions on feature phones continued to decline in North America, APAC and Latin America, with Q3 network usage figures showing an increase in impressions on tablet devices in across all regions. Highlights of the device type breakout of impressions on the StartMeApp network in Q3 included:
● In North America (USA, Canada and Mexico), feature phones continued their decline, dropping 3% from a 7% share of impressions in Q2 to 4% during Q3 2013, while tablets' share of North American impressions grew by 2% to reach 19% of impressions in Q3, while smartphones' 77% share of all impressions represented an increase of just 1% for the quarter;
● In Latin America, feature phones share of impressions on the network fell an additional 3% during Q3, from 30% in Q2 to 27% during the quarter, while tablet's share of impressions grew by 2% to reach 10 % during and smartphones upped their share by 2% to reach 63% of the LatAm regional total impressions for Q3;
● In Europe, where feature phones are virtually non-existent, tablet devices increased their share of SMA impressions by 3% during the quarter, reaching 21% of all European ad impressions on the network in Q3, while smartphone device' share of impressions fell 3% from 82% during Q2 to 79% during Q3 in the European market; and,
● In the APAC region, feature phones' share of impressions fell 3% during Q3, while tablet devices' share rose by 3% from 10% during Q2 to 13% during Q3 2013 and the share of smartphone impressions remained static at 73% of the regional total.
Serving mobile ads in 120 countries across five continents, StartMeApp currently delivers more than 20 billion ad impressions monthly, with ad impressions forecast to increase to 30 billion monthly by end-2013. StartMeApp is connected to all leading buy-side mobile ad networks and exchanges worldwide, as well as all major global sell-side providers of rich-media apps and mobile content, including carrier on-portal audiences, mobile web sites, WAP sites and applications traffic.
StartMeApp's unique ad-serving capabilities combine with the extensive mobile expertise and experience of the company's management and staff to provide the highest possible return on mobile advertising investment for clients worldwide. To learn more about StartMeApp and the mobile advertising opportunities available to its brand, ad agency and content publishing clients in Latin America, North America, Europe, Asia and Africa, visit http://www.StartMeApp.com.
To obtain a copy of the "StartMeApp AdSmart Quarterly Report – Q3 2013," interested parties should contact: Isabelle Thille, Director of Operations, StartMeApp, tel: +1 (516) 734.6003, email: isabelle.thille(at)startmeapp(dot)com.
# # #
About StartMeApp
An independent, privately owned global mobile advertising network, StartMeApp runs tens of thousands of effective brand and ad campaigns each year and serves mobile ads, apps and content in 120 countries across North and South America, Europe, Asia and Africa. Currently delivering more than 20 billion impressions monthly worldwide, StartMeApp's unique, high-frequency ad-serving platform fully integrates demand-side and supply-side functionalities to connect publishers, VAS providers and aggregators of mobile apps and content to all leading ad networks and exchanges worldwide. At the same time, StartMeApp provides brand advertisers and agencies access to major global sources of high-quality, rich-media apps and content inventory, including carrier on-portal audience, mobile web sites, WAP sites and mobile applications traffic. For more information about StartMeApp, visit: http://StartMeApp.com.
# # #