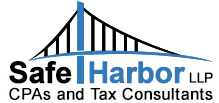 We work with many startups in San Francisco.
(PRWEB) May 30, 2014
Safe Harbor LLP, a San Francisco CPA Firm specializing in assisting Startups, is proud to announce its latest informative bulletin on the benefits of outsourcing financial service needs to external CPA firms.
"We work with many startups in San Francisco," explained Chun Wong, CPA, managing partner at Safe Harbor LLP. "Many make the mistake of attempting to do everything themselves and potentially miss important elections and tax credits, they would be better served by using our outsourced CFO services."
To read the informative bulletin on the advantages for startups of outsourcing their CFO needs, please visit http://www.safeharborcpa.com/?p=3364
Startups and CFO Services: A List
Among the reasons startups might want to consider taking advantage of Safe Harbor's 'Outside CFO' program are the following. First, the firm is an expert in tax; its skill set is complementary to those of the startup, which may have expertise in technology but probably not in taxation issues. Second, Safe Harbor specializes in helping startups in the growing San Francisco technology scene. Third, the firm can act as an outsider, giving the startup management independent advice that while unpleasant, may be helpful to the strategic plan. Finally, Safe Harbor LLP is itself positioned to grow and can grow alongside startups as they conquer their target markets.
IRS Circular 230 Notice
The Internal Revenue Service requires Safe Harbor LLP to inform the reader that any tax advice contained in this correspondence cannot be used for the purpose of avoiding penalties under the Internal Revenue Code or for promoting, marketing or recommending to another party any transaction or matter addressed.
About Safe Harbor LLP – a Professional CPA Firm in San Francisco
Safe Harbor LLP is a CPA firm that specializes in accounting and tax services for individuals and businesses throughout the San Francisco Bay Area and greater California. Safe Harbor CPAs helps both individuals and businesses with tax preparation, IRS audit defense, and audited financial statements. The firm prides itself on friendly yet professional service and utilizes state-of-the-art Internet technology to provide quality customer service.
Safe Harbor CPA
http://www.safeharborcpa.com
Tel. 415.742.4249