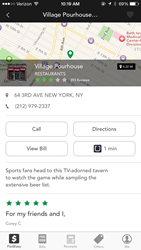 We are bridging the gap between mobile payments and invisible payments.
New York, NY (PRWEB) May 18, 2015
Mobile payments start up PaidEasy has announced its official launch into beta testing this week. PaidEasy is seeking to set themselves apart from others that have entered the space. PaidEasy is re-inventing the way we open and close bills. With its 360 degree payment platform it gives users the ability to open, view, split, tip and pay their bills at places like restaurants, bars, hotels, hair/nail salons and dry cleaners.
PaidEasy integrates with the merchants existing Point of Sales system without requiring any additional hardware like iPads or connectors. They require just a simple upgrade to the merchants systems.
Through its proprietary technology, PaidEasy gives users the ease of opening a bill at an establishment with the tap of one screen. A bill is then created in the merchants Point of Sale and the merchant can find that bill with the users last name. The merchant can then add items to that bill as they normally would. When ready to leave, the user can get up and go, tip preference is stored within the app. There is also an option for the user to review everything that has been added to the bill in real-time or to split the bill with friends.
PaidEasy's encrypts their users credit cards within the app. With the uprise in credit card theft and breaches PaidEasy is eliminating the days of having to hand over your credit card or even take it out of your wallet.
On a first date but still want to use that 20% off coupon? The app has a unique "offers" component. The coupons can be selected and added right to the bill without the fear of looking "cheap".
Gregg Jackowitz CEO of PaidEasy said "We are bridging the gap between mobile payments and invisible payments. Uber has set a gold standard when it comes to payments. Users want a frictionless experience; they want to walk in and walk out without having to wait. We have built our entire platform around that while also making sure that merchants don't have to change their day-to-day operations."
PaidEasy claims to be able to reduce processing fees for merchants by up to 2% through partnerships it has built. Gregg says, "The user experience came first, but as we were integrating our payments we noticed that merchants are bleeding capital from the processing fees they pay. Through some very strategic partnerships we plan to fix this decades old pain point."
PaidEasy's user-friendly app is incredibly clean and clear. They pull reviews from Yelp so the user can read about the establishment they are going to. They have an Uber button built right into the details page that will estimate the cost of your trip. The platform encompasses everything you would need to go out, all in one place. The complete User Experience can be viewed at their website: http://www.Paid-Easy.com
Currently PaidEasy is in an invite-only Beta Release, but it is expected to launch at the end of May 2015 with almost 30 venues in the NYC area already on board. At launch they will only be available on iOS but plans for all platforms are currently being built.