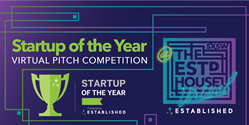 "In lieu of our 10th Startup Night SXSW event and to further support the startups originally pitching live in Austin, Established will produce the Startup of the Year Virtual (online) Pitch Competition on 3/17," says Frank Gruber, Co-CEO.
WASHINGTON (PRWEB) March 16, 2020
SXSW may have had to cancel this year's festivities, but the startups from Startup Night SXSW, powered by Established, will still get their chance to shine — thanks to technology and virtual platforms!
At 10 AM PT/12 CST/1 PM ET on Tuesday, March 17, grab yourself a Guinness or favorite green beverage and join us online to watch 14 rising startups from across the country compete for a pot o' gold (i.e. up to $10K in potential investment from Established Ventures), American Airlines Business Extra points, a fast-track spot to our 8th Annual Startup of the Year Summit, and the coveted golden microphone trophy. In addition to announcing the winner of the pitch competition, there will be an American Airlines Business Extra raffle, as well as the winner of the Established (Virtual) House People's Choice Award. Vote at https://soty.link/PeoplesChoicesxsw.
Judges of the competition will include tech leaders from around the United States: Sarah Kunst, Managing Director, Cleo Capital; Lesa Mitchell, Managing Director Kansas City, Techstars, Brent Wistrom, Senior Editor, American Inno; and Cezara Windrem, Innovation Catalyst, Head of VR, Enterprise Innovation and Product Development for AARP just to name a few.
Get to know a little bit more about the early-stage companies that are sure to shamrock your world:
Canairy | New York, NY
Canairy uses changes in patients' voices and coughs as biomarkers for respiratory disease by training personalized voice models for each patient in order to detect changes in severity, character, and frequency over time.
Carpe Diem Social | Washington, D.C.
CarpeDM provides relationship-minded singles a shortcut to chemistry by requiring a 5-10 minute real-time video chat between matches before enabling texting.
Cloud Campaign | Portland, OR
Cloud Campaign enables marketing agencies to manage more clients on social media without any additional effort, allowing them to increase the number of brands they manage and charge a higher retainer with a leaner team.
Collective Liberty | Washington, D.C.
Collective Liberty is a national and international non-profit that uses data and intelligence to stop human trafficking. The organization collaborates with others in the anti-human trafficking industry to provide data-driven solutions to help stop the practice.
ConverSight.ai | Indianapolis, IN
ConverSight.ai's intelligent AI bot, Athena, tackles the problem of exploding data and hidden insights by proactively analyzing data and generating hidden insights without the need for developers.
EarBuds | Austin, TX
EarBuds allows people to listen along live with their favorite music curators during key moments: athletes in pregame warmups, musicians on the tour bus, or even just their friends while working out together. Listeners can also discover past shared music, playing any song with a tap.
Gardenio | Austin, TX
Gardenio is a new kind of garden club that sends their members everything they need to start growing organic food on their patio or balcony — including live plants — with an app and community to support them as they grow.
Hoy Health | Morristown, NJ
Hoy Health is an emerging health tech company that offers a comprehensive set of digitally accessible, bilingual, and culturally relevant cash-based healthcare access programs including affordable Rx drugs, chronic condition management, and tele-health/virtual care.
Jeenie | Washington, D.C.
Jeenie is a gig-economy, global community of language experts standing by 24/7 to jump on a voice or video call to help their users with any and all of their communication needs.
knowRX, Inc. | Austin, TX
knowRx is a personalized medication management platform that increases medication adherence and decreases patient re-admissions to hospital and inefficient use of medical resources.
Sports Sonar | San Antonio, TX
Sports Sonar can transmit an emergency notification in under 10 seconds with the push of a button and without reliance on the internet thanks to their use of high-frequency sounds, inaudible to the human ear, that emit a silent alert signal to trained personnel, through any sound system.
Techless | Austin, TX
Techless' mobile OS, Wisephone, allows users to break free from app addiction with a phone that flat-out skips all social media, apps, porn, and digital compulsions so one can connect more authentically, relate more intentionally, and live life more fully.
The Tuesday Company | Washington, D.C.
The Tuesday Company's software, Team, helps campaign, issue advocacy, and union staffers build long-lasting digital communities by becoming a space where organizers connect with supporters and empower them to take meaningful action as trusted messengers, all in a way that is tracked and scaled.
Velour Imports | Houston, TX
Velour Imports is an online marketplace of beverages wholesale. Using the same concept as Uber Eats, Latin American importers can order pallets of craft beer, wine, hard cider, and spirits from a digital menu and then watch orders arrive from any smartphone or web device.
Prize sponsors include American Airlines and Established Ventures; design partner, Covalent Logic.
Remember to register here, and we'll see you under the rainbow!
Eventbrite: https://soty.link/VirtualEstHouse
Vote for the Established (Virtual) People's Choice Award: https://soty.link/PeoplesChoicesxsw