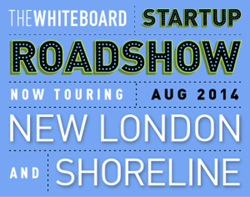 Groton, Conn. (PRWEB) September 04, 2014
The Whiteboard Startup Roadshow, an initiative of Independent Software (http://www.indie-soft.com), and supported by CTNext (ctnext.com), is currently highlighting the Southeastern Connecticut shoreline as part of a 2014 celebration and exploration of Connecticut's startup communities. In partnership with local organizations, the Roadshow will hold an event titled, "How To Build A Robust STEM Startup Community in Southeastern CT," on September 4, from 5:30 - 8:00 p.m., at Applied Physical Sciences in Groton. The event will bring together STEM startups and discuss how an entrepreneur-led community can help grow and support this important economic cluster.
"The untapped talent in Southeastern Connecticut in many areas of technology is awesome. So much has been done by the local community to shine a light on the possibilities and successes here," said Susan Froshauer, president and CEO of CURE (Connecticut United for Research Excellence). "We're excited that the Whiteboard Startup Roadshow is helping us continue to gather, celebrate and support the entrepreneurial community, especially as we are on the eve of launching our community workspace and laboratory incubator, the CURE Innovation Commons."
Working in collaboration with CURE, Southeast Connecticut Enterprise Region (SECTER), and The Chamber of Commerce of Eastern Connecticut, the purpose of the event is to bring together STEM startup founders from the New London-Groton region who can discuss how entrepreneurs benefit from being a part of a greater community that supports high-growth startups, and how that can be fostered in Southeastern Connecticut.
The event will include a panel of experts to lead the discussion on community building, facilitated by Tim Coates, Program Manager, Economic Development of IBM's Corporate Citizenship program. Panelists include Susan Froshauer, president and CEO, CURE; Derek Koch, founder and CEO of Independent Software and long-time New Haven startup community builder; Kevin Logan, CEO of MACSEA, Ltd. and Body Biolytics; and Bob Gorman, founder, Applied Physical Sciences Corp.
"How a startup community is built depends on the unique nature of its local community. By sharing our community-building experience with founders and listening to their specific challenges, we hope to help strengthen the STEM startup community in Southeastern Connecticut and raise the visibility of what the community needs to move forward," said Derek Koch, Founder and CEO, Independent Software.
The event will be held at Gorman's former company, Applied Physical Sciences, which he founded and eventually sold to General Dynamics. Gorman, along with Logan, will appear on the panel to share their personal experiences in building a startup in Connecticut. Logan recently launched his startup, Body Biolytics, to leverage technology from his first company, MACSEA, Ltd.
Ideal participants for the event include founders of Connecticut startup businesses in the STEM disciplines and experienced entrepreneurs who can share their personal challenges and experiences of what it takes to start a business in Connecticut.
This event is open to the public. Tickets are $10 and can be purchased online at: roadshowsoutheasternct.eventbrite.com.
Producers of this event also recommend attending the Southeastern CT Entrepreneurs Network (SECTen) event on October 8, "How to Build a BioTech."
About Independent Software
Entrepreneurs who are serious about giving their idea the best chance of success, turn to Independent Software. We provide software development and other services that help startups transform their idea from a blank page to product alpha and, in the process, achieve big wins with team and business growth. In addition, we run several state-sponsored, community-building programs that promote the success and growth of Connecticut's startup ecosystem.
Independent Software is a privately-held firm based at The Grove, a collaboration space for entrepreneurs in the heart of New Haven's innovation district. Learn more at: http://www.indie-soft.com.
###
Press contact for the 9/4 Startup Roadshow event:
Suzi Craig, Director of Community Development
Independent Software
suzi(at)indie-soft.com
860.384.4480