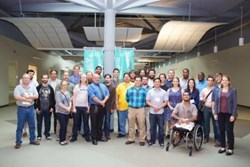 "The fast-paced, intense experience can be life-changing for many people. After the event, participants often find that the Startup Weekend alumni community continues to provide valuable resources and support."
Baton Rouge, La (PRWEB) August 29, 2013
LawyerBooks, a startup that helps attorneys track and record their client funds, was declared the winning team by the Baton Rouge Startup Weekend judges, beating out 28 other ideas pitched during the weekend.
Startup Weekend is a global grassroots movement that brings ideas, innovation, and entrepreneurs together in a 54-hour experiment to build a startup from the ground up. Each event follows the same model: Individuals pitch their startup ideas, teams naturally form around the most popular ideas, then teams will have one weekend to create a business model, design, code, and generate market validation.
"Startup Weekend provides a hands-on experience of building and launching products and businesses," said Wendy Overton, global facilitator for Startup Weekend and lead organizer of the Baton Rouge event. "The fast-paced, intense experience can be life-changing for many people. After the event, participants often find that the Startup Weekend alumni community continues to provide valuable resources and support."
To help the teams overcome blocks and hurdles, local coaches were available to offer advice, strategy and business insights to the teams. At the end, each team had just five minutes to present the results of their startup efforts to a group of judges, consisting of local entrepreneurial leaders, who then provided critical feedback to the teams. The teams were judged on four criteria: Business Model, Customer Validation, Technical – Execution, and Design – Execution.
The LawyerBooks team was built around an idea from Jeremy Beckman, a developer at BlueCross Blue Shield Louisiana. He was inspired by his wife, an attorney who has experienced a lack of affordable software in her industry. Specifically, Jeremy hopes to make managing money easier for lawyers.
LawyerBooks, as explained by Jeremy, "is an application that will be used by attorneys, especially solo practitioners, to keep track of client funds that must go into Trust Accounts. Attorneys will be able deposit and withdraw money into their IOLTA account without having to worry about if they are following the Louisiana Disciplinary Board's rules on handling client funds."
The application is capable of generating full reports on deposits, withdrawals for expenses, and withdrawals tied to time entries. Other members of the team include Daniel Pacheco, a designer at Blue Cross Blue Shield and fellow developer, Chris Gray from Deloitte.
As the event winner, LawyerBooks will receive a package of prizes that includes: a six-month term at either Springboard BR or Tech Park U, a branding package from Catapult Creative Media, website design and marketing services from Reputation Capital Media, and printing services from Tri-Star Graphics. Simmons & White will be offering legal and strategy consulting services and an invitation to present in front of potential investors from South Coast Angel Fund.
The LawyerBooks team is asking for $15,000 dollars from investors to help further launch the startup and hire a dedicated person for technical support. They are hoping to pitch the product in October to 9,000 practitioners in Louisiana, a thousand of which they have projected as the number of potential clients for the LawyerBooks application.
Startup Weekend Baton Rouge was sponsored in part by the Louisiana Technology Park, Reputation Capital Media, SpringboardBR, Catapult Creative Media, and Simmons and White.
ABOUT STARTUP WEEKEND
Startup Weekend is a global grassroots movement of active and empowered entrepreneurs who are learning the basics of founding startups and launching successful ventures. It is the largest community of passionate entrepreneurs with over 1250 past events in 115 countries around the world in 2012. For more information about upcoming Startup Weekend events and opportunities in the Baton Rouge region, visit the Startup Weekend Baton Rouge website.