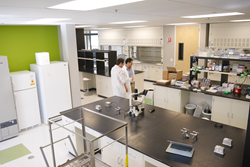 Palo Alto, CA (PRWEB) August 27, 2014
StartX, a nonprofit technology accelerator program affiliated with Stanford University and QB3, a pioneering institute driving biotechnology innovation at the University of California, are partnering to open a life science laboratory customized for the needs of early stage medical and hardware technology companies.
The 2,000 square-foot lab space, named "StartX-QB3 Labs," is the first research facility close to the Stanford campus and Stanford Health Care focused on developing entrepreneurs from academia to industry. Previously, startup founders, some of whom are teaching faculty or students at the university, commuted to the San Francisco area or the East Bay to conduct experiments and build their companies. The distance has been a significant obstacle for time sensitive research.
Operated jointly by StartX and QB3, StartX-QB3 Labs is housed within the new StartX entrepreneurial complex in Palo Alto. Founders at StartX-QB3 Labs are uniquely positioned to benefit from both the immersive entrepreneurial education opportunities that StartX provides, as well as QB3's excellence in management of top-class research facilities with highly specialized resources for scientists. Researchers can also easily access StartX's diverse community of founders and industry experts. This highly productive setting will help foster developing startups in their critical, high growth phases.
"Life science entrepreneurs are faced with extremely complex challenges in building their companies. We are excited to partner with QB3, which has a deep expertise in building strong foundations for the launch of successful biotechnology companies," said Andrew Lee, co-founder of StartX Med and founder of StartX-QB3 Labs. "Our facility will enable medical technology founders to focus on their core research and business development in a supportive environment, while avoiding the obstacles in sourcing, outfitting, and maintaining a high quality lab space."
When starting his own company as an MD/PhD candidate at Stanford, Lee was challenged with finding affordable, local space for his biotech startup, Stem Cell Theranostics. Prior to joining StartX and later co-founding StartX Med, he also faced and overcame many hurdles while learning the ropes as an entrepreneur. The vision for StartX-QB3 Labs took root as a result of these challenges. Lee's company has since raised Series A funding and operates its own research lab in Menlo Park.
"StartX has an excellent track record of educating top entrepreneurs affiliated with Stanford," said Douglas Crawford, associate director of QB3 and co-director of StartX-QB3 Labs, who has launched six similar incubators near UC San Francisco and UC Berkeley. "Co-locating high caliber scientific researchers within the resource-rich environment of StartX will significantly and rapidly improve the odds of success for these early stage life science companies. We are proud to support and facilitate this endeavor."
The StartX-QB3 space was built by Alexandria Real Estate, a leading life sciences developer, and is designed to support up to 20 life science startups. Prior to launch, it is already 25 percent filled with incoming companies. The facility will be outfitted with essential equipment for early stage life science, chemistry, and medical device startups including four fume hoods, a molecular biology core, a tissue culture core, an autoclave, a glasswash, workbenches and a hardware prototyping room.
Several teams have already signed up to use the space, including Stanford-StartX funded-Nirmidas Biotech. Founded by a Stanford professor and expert in nanotechnology, the startup has pioneered a novel nanomaterial that can increase sensitivity for fluorescence-based diagnostic readouts by over 100-fold. The company is currently evaluating applications in diagnostic testing for heart attack among other indications. Nirmidas, which just raised $2 million in seed funding, says StartX-QB3 Labs is a complete solution for their needs after spinning out of the university.
"At StartX-QB3 Labs we are within arm's reach of StartX's educational opportunities and the StartX community. We can also work from a high quality research facility and grow as entrepreneurs, all within a bike ride from Stanford," said professor Hongjie Dai, co-founder of Nirmidas Biotech.
While space is filling up quickly, the lab is accepting applications from early stage life science, medical device, hardware, and chemistry companies. Current program sponsors include Alexandria Real Estate, VWR, Presidio Pharmaceuticals, Johnson & Johnson, QB3, StartX, and a number of individuals from the StartX and QB3 alumni and mentor networks. For more information on joining StartX-QB3 Labs or to make a tax-deductible donation for operations, please email: andrewlee(at)startx(dot)stanford(dot)edu.
About StartX & StartX Med
StartX is a 501(c)(3) Stanford-affiliated nonprofit in Silicon Valley that runs one of the world's top startup accelerator programs. Our mission is to advance the development of the best entrepreneurs through experiential education and collective intelligence. Since 2009, we have supported more than 160 companies and 370 entrepreneurs across a wide spectrum of industries. StartX and StartX Med, dedicated to medical and biotechnology challenges, provides founders with access to a powerful network of entrepreneurs, investors, mentors, and industry partners, along with office space and a variety of other resources. We are supported by Stanford University, Stanford Health Care, Kauffman Foundation, Steelcase, Microsoft, Intuit, Blackstone Charitable Foundation, Greylock Partners, Draper Fisher Jurvetson, Sequoia Capital, Merck, Genentech, Johnson & Johnson, and many more. For more information, visit http://startx.stanford.edu.
About QB3
QB3 is a cooperative effort among private industry and more than 220 scientists at UCSF, UC Berkeley and UC Santa Cruz. One of four technology institutes created in 2000 by former California Governor Gray Davis, QB3 has a joint mission of supporting science, driving the California economy and transforming scientific research into public good.
Fundamental to the latter two missions are QB3's efforts to commercialize University of California science by creating mutually beneficial partnerships with industry and supporting innovative entrepreneurs. The effort has led to 54 bioscience startup companies currently in QB3's incubator network. QB3 also operates Mission Bay Capital, an $11.3M seed-stage venture capital fund designed to support UC startups. For more information on QB3, please visit http://qb3.org.