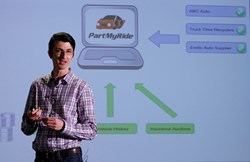 Mountain View, CA (PRWEB) February 07, 2014
StartX, a nonprofit that runs an accelerator for Stanford-affiliated entrepreneurs, introduced eight new startups and several organizational updates during its Demo Day event held last night at Box headquarters in Los Altos, CA.
The program, now in its third year, announced nine startups that exited in the past 12 months.

Luma Camera (Instagram), 2013
WifiSlam (Apple), 2013
Loki Studios (Yahoo), 2013
Aviate (Yahoo), 2014
Shopwell (HarvestMark), 2013
6Dot (ProxTalker) 2013
PeerCDN (Yahoo), 2013
Nutrivise (Jawbone), 2013
Undisclosed, 2013
StartX founder and CEO, Cameron Teitelman, also reported on the Stanford StartX Fund, which began operations in September 2013. The fund has since made 29 investments in StartX companies, totaling $13 million. The nonprofit also disclosed plans for a 13,000 sq foot headquarters. The facility, located within walking distance to Stanford University, has been meticulously designed to foster collaboration, productivity, and innovation. With generous support and creative direction from Steelcase, the office is in the final stages of construction and StartX will move by mid-March.
Following the series of announcements, StartX companies, many who participated in the Fall 2013 session, delivered presentations about their businesses to more than 200 of Silicon Valley's top investors and journalists.
Below are the startups who presented and their (abbreviated) descriptions:

Apportable - makes Objective-C apps run on Android natively
Dynoptics - bringing optical zoom INSIDE your mobile phone
EverybodyDanceNow - uses dance to help underserved youth
InsideMaps – with a smartphone, create a 3D replica of your home & furnish it
Nightingale – helps caregivers of autistic children communicate & make decisions more effectively
Nurep - on-demand medical device support.
PartMyRide - online marketplace for used auto parts
TravelNuts - enables hotels to upsell extras and activities directly to their guests
Apportable (apportable.com)
With Apportable, you write your app once in Objective-C using the iOS APIs that you know and prefer. We then cross-compile your app to a native Android app. Because our compiler targets the native CPU of the Android device, this is the only solution that lets you develop natively on both iOS and Android with only one codebase. Apportable's technology saves companies millions in development costs and helps them get to market faster with higher quality apps.
Dynaoptics (dynaoptics.com)
Consumers are dissatisfied with the current performance of digital zoom in their mobile phone, which results in pixelated photos and videos. This is a widely-felt pain point – over 1.5 billion photos and 8.5 million hours of video are shared each day. It is no surprise that the camera is a key factor in driving phone upgrades and brand switching. DynaOptics' technology allows an optical zoom camera module to fit inside the current footprint of today's mobile phones, without the bulky footprint.
Everybody Dance Now! (everybodydancenow.org)
EDN! uses dance to cultivate self-esteem, establish healthy lifestyles, and engage at-risk youth in positive alternatives to drugs and violence. EDN! trains young people, ages 14-24, with business and leadership skills to create and sustain local EDN! chapters that provide free hip-hop dance programs for low-income youth during the most dangerous hours for kids, 3-6pm.
InsideMaps (insidemaps.com)
InsideMaps delivers a shopping experience breakthrough by letting anyone visualize furniture in an exact 3D replica of their own home. Through a smartphone app that delivers photo-realistic 3D home models in minutes, InsideMaps opens up interior design to everyone.
Nightingale (nightingaleapp.com)
Nightingale is a mobile health company that has developed a secure behavioral monitoring tool for parents, teachers, and clinicians of children on the autism spectrum. Our mission is to allow clinicians to make data-driven decisions by allowing patients to communicate with their doctor after they leave a clinic. Our vision is to continuously monitor every patient using wearable and implantable technologies to prevent adverse medical events from happening.
Nurep (nurep.com)
Nurep is a secure mobile live video platform that allows for virtual on-demand medical device support to the operating room staff. As the baby boomers age, the volume of procedures is rapidly outpacing the supply of available support. Nurep allows the operating room staff to instantly connect with the best rep for on-demand support in the operating room. With Nurep, medical device reps can support four times more physicians allowing them to provide better support while increasing sales.
PartMyRide (partmyride.com)
PartMyRide is a modern online marketplace disrupting the $27 billion used auto parts industry. Today, shops and hobbyists waste countless hours finding used parts from local suppliers, relying heavily on phone-based sourcing. This inefficiency costs the auto repair and insurance industries hundreds of millions of dollars per year in wasted time, repair delays, and rental car costs. Our product makes the process of buying used parts as easy as ordering from Amazon. By synthesizing parts data from the most reliable suppliers and providing a single point of contact for buyers, we are creating a delightful purchasing experience.
Travelnuts (travelnuts.com)
Travelnuts is building the infrastructure to allow hotels to benefit from the $100B pool of additional revenue from extra services – such as hotel transfers, local activities, etc. – which, thanks to us, can now be sold directly on the hotel's own website (desktop and mobile).
About StartX
StartX is a 501(c)(3) nonprofit Stanford-affiliated nonprofit in Silicon Valley that runs one of the world's top startup accelerator programs. Our mission is to advance the development of the best entrepreneurs through experiential education and collective intelligence. Since launching in 2010, we have supported more than 150 companies and 370 entrepreneurs across a wide spectrum of industries. StartX provides founders with access to a powerful network of entrepreneurs, investors, mentors, and industry partners, along with office space and a variety of other resources. We are supported by Stanford University, Stanford Hospital and Clinics, Kauffman Foundation, Microsoft, Intuit, Blackstone Charitable Foundation, Greylock Partners, Draper Fisher Jurvetson, Sequoia Capital, Merck, Genentech, Johnson & Johnson, and many others. For more information, visit startx.stanford.edu.