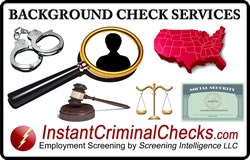 In 2014, InstantCriminalChecks.com will post a new blog article each week about statewide criminal information, eventually covering all 50 states.
Boston, MA (PRWEB) December 31, 2013
InstantCriminalChecks.com will post a new blog article each week, eventually covering all 50 states, Puerto Rico, and D.C. The company offers state criminal background reports in all states. In 46 states and D.C., customers receive "instant" results -- within just minutes of placing their order. Even for states that are "non-instant" (Delaware, Massachusetts, South Dakota, and Wyoming), the results are received within one to fourteen business days of an order.
A state criminal background report or a criminal report run on a county within a state is only $24.95. Some county courthouses charge a surcharge and those are clearly listed on the order form. Customers can also perform a national criminal background check that includes the 46 "instant" states and D.C., for only $59.95. All orders include a free national sex offender check as well as a check of the Most Wanted List. In addition to being affordable, the results are provided in an easy-to-read format, and company representatives are on hand to provide any additional support needed.
Each blog posting will contain valuable information on criminal statistics within a state, such as the total violent crime rate and the property crime rate. General information on each state will also be provided. Examples of general information are population and household data.
InstantCriminalChecks.com's state criminal background reports are reliable and up-to-date because of its network of state and local government agencies, criminal report researchers, and public records data warehousing companies. To stay on top of the latest trends in the industry, it is an active member of its industry trade organization, the National Association of Professional Background Screeners, as well as other industry associations.
Corporate clients and other high-volume customers also receive discounts as well as the opportunity to create customized packages that are tailored to meet their specific needs. For example, health care organizations can receive background check information on whether a health care provider has been excluded from Medicare or Medicaid. Some of the company's longest-standing clients are within the healthcare industry, which has a duty to protect patient safety, and therefore, typically requires background checks of candidates for employment.
About InstantCriminalChecks.com
Instant Criminal Checks offers employee background checks that range anywhere from $15 to $60, giving you the affordable options that you need. Whether you need state criminal reports or national criminal background report, InstantCriminalChecks.com is equipped to provide you the information you need in only seconds.